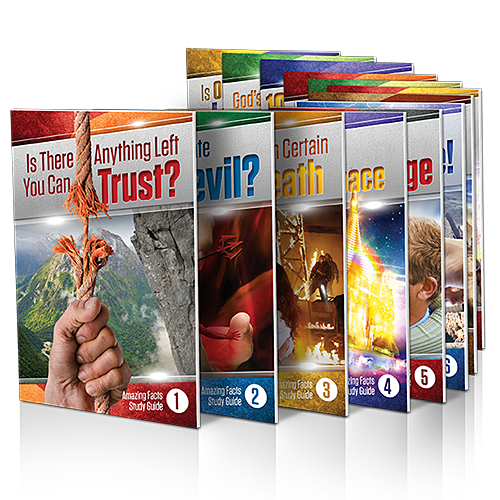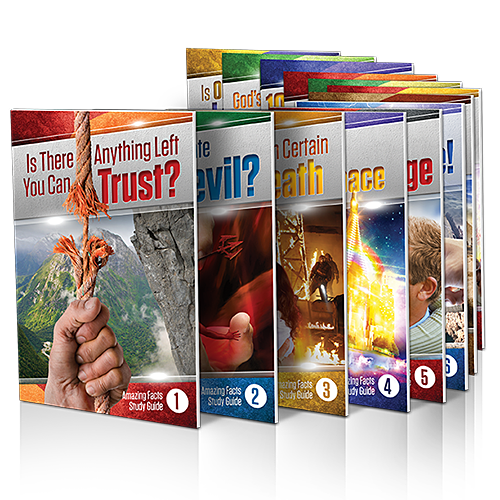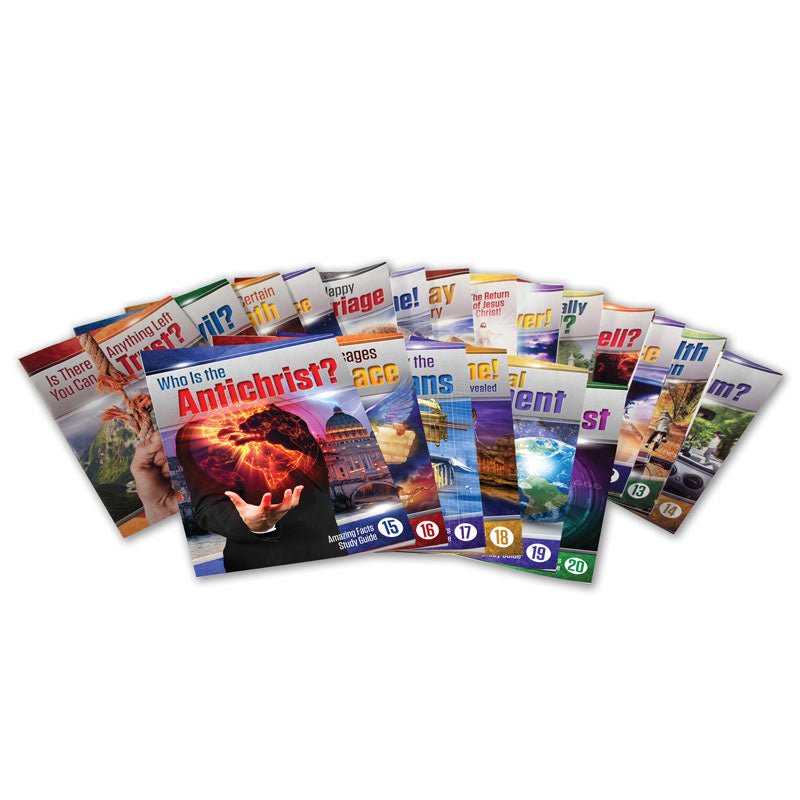 (50 Sets) Amazing Facts Study Guides Complete Set (Lessons 1 - 27 Bulk) by Bill May
Other options for this product:
Comes in Set of 50 Bulk
These are not in boxes and not collated.

You won't find a better series of Bible lessons for personal study or in a group study setting. These can be shared as topical studies one at a time or as part of an overall outreach effort, leading people to truth of the last-day message! Amazing Facts Studies Guides are very popular with churches and have helped thousands discover Bible truth, and each are designed to point seekers to the Savior!

Titles include:

Is there Anything Left You Can Trust?
Did God Create the Devil?
Saved from Certain Death
A Colossal City In Space
Keys for a Happy Marriage
Written In Stone
and so many more.
Each guide is designed to lead readers step-by-step to a proper understanding of Bible doctrines. They are so easy to use that you'll actually have fun using them!

So get them now for your own outreach needs or as part of a church-wide effort. The possibilities are endless and the results are eternal!
Customer Reviews
Vernon T.

United States
09/01/2021
Awesome! Helped me understand the Bible and the things to come.
It was great! Just when I was at a low in life. I've been trying to learn about the end times and with praying for the Holy Spirit for clarity and understanding, and it hit me! I understand and I'm back keeping the sabbaths now. I see Gods plan now. I enjoyed them so much that I bought 50 sets to hand out to family and friends and anyone I come across that is interested. Thank you very much.
Jessica R.

United States
06/17/2021
Highly Recommend
I bought a couple sets so my friend and I could have Bible studies at least once a week. They are such great tools for Gods kingdom! She is learning Biblical stuff she's never heard before. I warned her! There's no turning back from these Biblical truths that lead to a greater relationship with Christ. Many thanks to Amazing Facts and who knows maybe our little Bible study will grow someday.
Hector L.

United States
06/02/2021
Good tool for introducing beginners to the doctrines of the church
I have used these study guides several times when giving bible studies to new believers. It's important to start from the beginning and do them in order, so that you can establish trust in the scriptures which is what the study guides point to. Each one touches on a different subject that help explain SDA fundamental beliefs.
APPAH K.

United States
Don H.

United States
05/02/2021
The very best!
These study guides make it super easy to learn
Erick V.

United States
05/02/2021
Study Guides
Awesome and I'm well pleased!
Darlene R.

United States
05/02/2021
Study guides
I LOVE them, after reading each one, I save them for my daughter who takes them to her work which is at detention facility at sheriffs dept, teens. Hope they help turn them in right direction