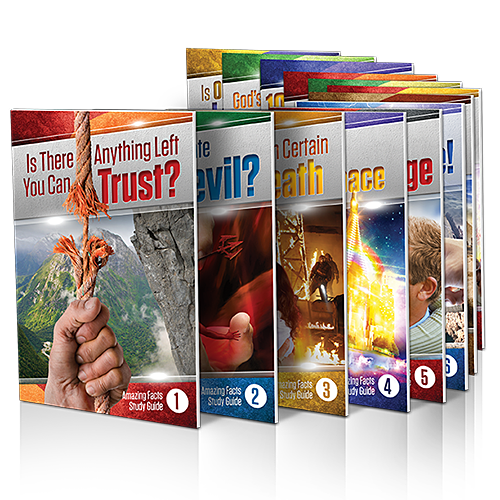 (50 Sets) Amazing Facts Study Guides Introductory Set Lessons 1-14 (Bulk) by Bill May
Other options for this product:
Comes in sets of 50 bulk
Amazing Facts Study Guides Introductory set in bulk form. Only sold in 10 or more sets. These are not in boxes and must be collated.

You won't find a better series of Bible lessons for personal study or in a group study setting. These can be shared as topical studies one at a time or as part of an overall outreach effort, leading people to truth of the last-day message! Amazing Facts Studies Guides are very popular with churches and have helped thousands discover Bible truth, and each are designed to point seekers to the Savior!

Titles include:

Is there Anything Left You Can Trust?
Did God Create the Devil?
Rescue from Above
A Colossal City In Space
Keys for a Happy Marriage
Written In Stone
and so many more.
Each guide is designed to lead readers step-by-step to a proper understanding of Bible doctrines. They are so easy to use that you'll actually have fun using them!

So get them now for your own outreach needs or as part of a church-wide effort. The possibilities are endless and the results are eternal!
Customer Reviews
12/01/2022
Soul winning made simple
The Bible study guide, is very simple and easy to follow by interests that we are having Bible studies with. It has truly been a blessing to the Lord's ministry of soul winning that He has invited us to be partakers.
Janice D.

United States
06/03/2021
Study guide, on # 24
One of the goals my husband and I wanted to achieve once we retired was to spend more time in the word. These study guides have been a blessing, they give an order to end time events and much needed understanding. We bought study guide bundles for each of our adult children as well. Amazing facts has been our constant…for years! Thank you so much! J.Delaney NY
Maria J.

United States
10/13/2020
The Bible Lesson Guides Order
Overall excellent. The only problem is I didn't get a copy of receipt. Please email me a copy for church record. Thank you.
Beth P.

United States
06/09/2020
I think they are really good to start with because they are easier to present at least for me.
I'm just getting started....
Doris M.

United States
05/09/2020
Study Guides
So clear and easy to follow.
Connie N.

United States
01/31/2020
amazing facts
Good..could use more questions that require people to answer and look up scripture.
matt l.

United States
12/12/2019
good bargain!
I love the price (50%off)--don't care if it's the "older" studies