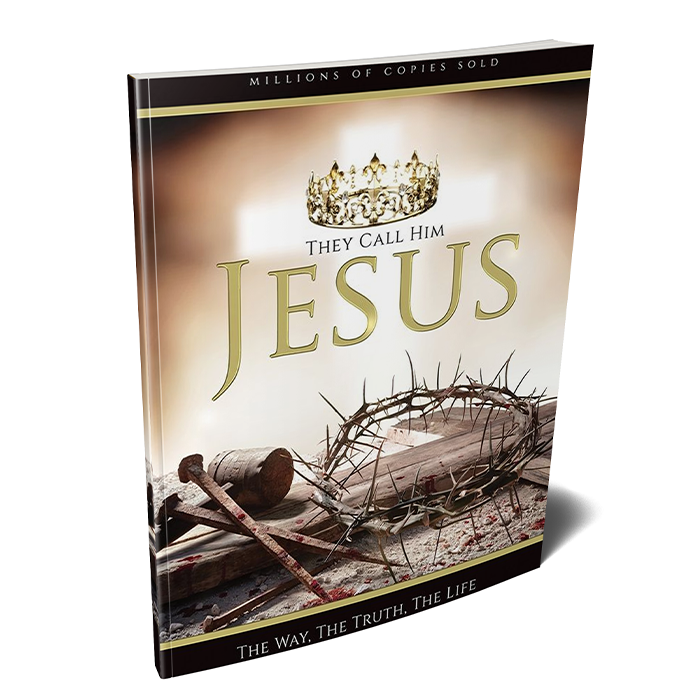 They Call Him Jesus: The Way, The Truth, The Life by Home Health Education Services
In stock
Pickup available at 1
Usually ready in 2 hours
They Call Him Jesus: The Way, The Truth, The Life by Home Health Education Services
1
Pickup available, usually ready in 2 hours
6615 Sierra College Boulevard
Granite Bay CA 95746
United States
+19164343880
This book 

is a proven source of inspiration and enlightenment to millions of readers all over the world. And with good reason, for it deals with a universal yearning—the desire to live life to its fullest with the knowledge that we are here for a reason. That we are loved.
An all-time best-seller, this book on the life of Christ is without parallel anywhere. It tells the story of the greatest spiritual leader the world has ever known—Jesus Christ. It does not merely set down a series of remote events; it presents the meaning of them so vividly that you will feel like you're an eyewitness to what is being described. And in these pages you will understand, possibly for the first time, the true, underlying significance of Christ's deeds and their bearing on your own life here and now.
Partial version of Desire of Ages.
Contents:
1.
"The Fullness of the Time"
2.
Unto You a Saviour
3.
As a Child 
4.
The Passover Visit 
5.
Days of Conflict
6.
The Voice in the Wilderness
7.
The Baptism

8.
The Temptation
9.
The Victory
10.
"We Have Found the Messias"
11.
At the Marriage Feast
12.
In His Temple
13.
Nicodemus
14.
"He Must Increase"
15.
At Jacob's Well
16.
Bethesda and the Sanhedrin
17.
"The Kingdom of God Is at Hand"
18.
The Call by the Sea
19.
At Capernaum
20.
Levi-Matthew
21.
Day of Rest

22.
"He Ordained Twelve"
23.
The Sermon on the Mount
24.
The Centurion
25.
Who Are My Brethren?
26.
The Invitation
27.
"Peace Be Still"
28.
The Touch of Faith
29.
The First Evangelists
30.
Come Rest Awhile
31.
"Give Ye Them to Eat"
32.
A Night on the Lake
33.
The

 

Crisis in Galilee

34.
Tradition
35.
The True Sign
36.
He Was Transfigured
37.
Who is the Greastest?
38.
Among Snares
39.
"The Light of Life"
40.
The Last Journey From Galilee
41.
The Good Samaritan
42.
Not With Outward Show
43.
Blessing the Children
44.
"One Thing Thou Lackest"
45.
"Lazarus, Come Forth"
46.
Priestly Plottings
47.
The Law of the New Kingdom
48.
Zacchaeus
49.
A Doomed People
50.
The Temple Cleansed Again
51.
Controversy
52.
Woes on the Pharisee
53.
A Servant of Servants
54.
"In Remembrance of Me"
55.
"Let Not Your Heart Be Troubled"
56.
Gethsemane
57.
Before Annas and the Court of Caiaphas
58.
Judas
59.
Calvary
60.
"It Is Finished"

61.
In Joseph's Tomb
62.
"The Lord Is Risen"
63.
"Why Weepest Thou?"
64.
The Walk to Emmaus
65.
"Peace Be Unto You"
66.
By the Sea Once More
67.
"To My Father and Your Father"
ISBN-10 ‏ : ‎

 

1513620843

ISBN-13 ‏ : ‎

 

978-1513620848

Item Weight ‏ : ‎

 

1.25 pounds