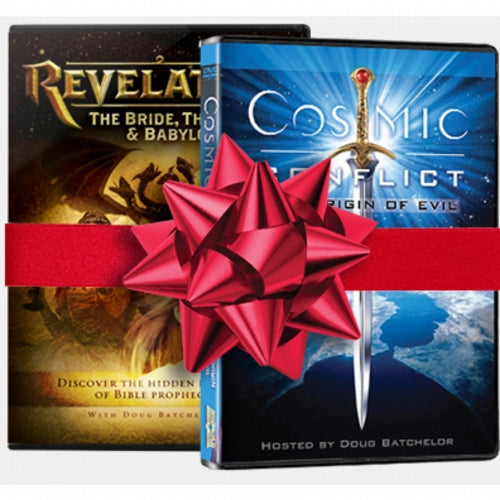 The Great Conflict Documentary Set (Costmic Conflict & Revelation) by Amazing Facts
This incredible bundle features Amazing Facts' two DVD documentaries that focus on the great controversy between Christ and Satan—the Cosmic Conflict and brand-new Revelation: The Bride, the Beast & Babylon.

Explore the true origin of sin and the fall of man, and get the incredible history of God's church from the time of the apostles to today and learn how deception that crept in centuries ago still affects Christians today. Save 40% when you buy this bundle!
Subtitles in: English, Spanish. Portuguese, German and French
SPANISH:
Este increíble paquete incluye los dos documentales en DVD de Amazing Facts que se centran en la gran controversia entre Cristo y Satanás: el conflicto cósmico y la nueva Revelación: La novia, la bestia y Babilonia.

Explore el verdadero origen del pecado y la caída del hombre, conozca la increíble historia de la iglesia de Dios desde la época de los apóstoles hasta hoy y aprenda cómo el engaño que se infiltró hace siglos todavía afecta a los cristianos de hoy. ¡Ahorre 40% con la compra de este paquete!

Subtítulos en: inglés, español. Portugués, alemán y francés
Customer Reviews
Write a Review
Ask a Question
07/02/2020
Ruth U.

United States
Sharing news of the Sabbath.
I was very pleased with theses dvds. I shared it with my neighbor so she now knows the Sabbath is from Friday sunset to Saturday sunset.
Great Documentaries!!
This is a great set for those who give Bible studies. It is great for studying and using to better explain all the questions people have about Satan and the origin of sin, and then for explaining how pagan traditions made their way into today's churches.. I love the Revelation Documentary! Super informative and is definitely great to share with friends and family, especially those who are Catholic.
Great history lesson about the world.
Enjoyed learning how history unfolded throughout the ages up to our current time frame. Enjoyed the more "movie like" production vs. someone just preaching on stage. Good job!!!