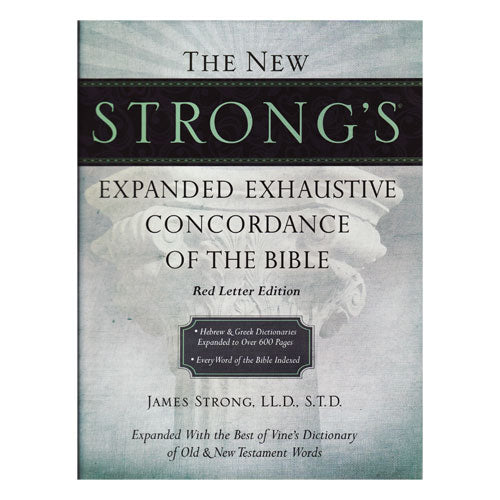 Strongs Expanded Exhaustive Concordance (Red Letter) by James Strong
This exclusive new edition of a legendary classic puts generations of biblical research at your fingertips. The
New Strong's Expanded Exhaustive Concordance of the Bible
is the best reference tool for pastors, teachers, and students of the Bible.
This expanded edition is computer-generated for highest accuracy, and the Hebrew and Greek dictionaries have been augmented with definitions from the classic reference work
Vine's Complete Expository Dictionary of Old and New Testament Words
.
Exclusive Features:

Only edition of Strong's concordance that includes the best of Vine's Complete Expository Dictionary of Old and New Testament Words.
Hebrew and Greek dictionaries that have three times more word study information than any other edition.
Words of Christ in red for quick identification.
Complete Tropical Index to the Bible.
Additional cross-references to standard Bible dictionaries and lexicons, including Brown-Driver-Briggs, Bauer-Arndt-Gingrich-Danker, and Theological Wordbook of the Old Testament.
Exclusive Fan-Tab Thumb Index Reference System for instant access.
Sewn binding for durability and ease of use.
Plus: The Laws of the Bible, Teachings and Illustrations of Christ, The Jewish Calendar, Jewish Feasts, Monies and Weights, New Testament Monies, Measure of Length, Dry Measures, Liquid Measures, Old Testament Chronology, Harmony of the Gospels, Prophecies of the Messiah Fulfilled in Jesus Christ, The Parables of Jesus Christ, The Miracles of Jesus Christ, and Prayers of the Bible.
Customer Reviews
Irma C.

United States
03/01/2023
Extremely Helpful
This concordance is very helpful is our Sabbath School class.
Sandy A.

United States
08/04/2022
Strongs Concordance
Purchased this item as a gift. The recipient is very pleased with the concordance.
Audrey K.

United States
07/02/2021
Strong's expanded exhaustive concordance
I love using this version of Strong's Concordance.
Tonya F.

United States
01/20/2020
Exhaustive Study Book
It is a reference book that is helping me study the Bible in its entirety. I am amazed at the cross references as well as the meaning of each word. I have found myself spending hours searching and studying. I would recommend this Concordance to anyone wanting more of an understanding of God's word.
04/07/2014
Great resource, would recommend to all
I use this reference book to look up the words in the Bible to see their meanings on context. I can look up a word and see all the passages where it is used to see where it fits in life. I can see what the difference in the Hebrew and Greek meanings of words. The Append Tab needs to be moved on a different line than the Hebrew section is, though.