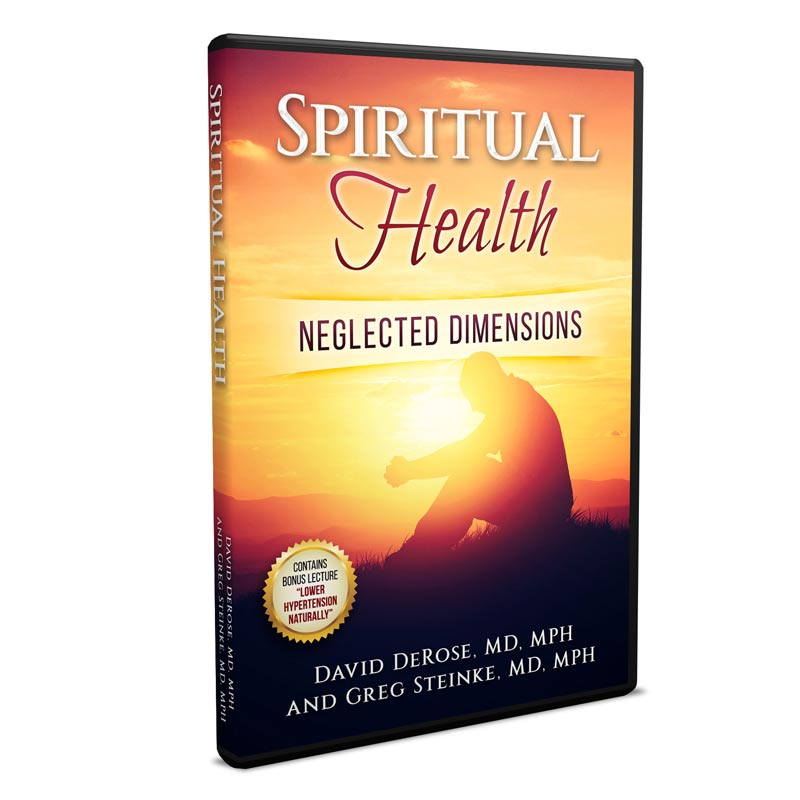 Spiritual Health: Neglected Dimensions by Dr. David DeRose & Dr. Greg Steinke
Do religion and spirituality enhance our health? It depends. In this thought-provoking DVD, David DeRose, MD, MPH, and Greg Steinke, MD, MPH, present the health-giving attributes of true spirituality that transcend specific religious persuasions.
Medical research has linked religious involvement and spirituality to:
Better physical functioning

Improved quality of life

Better mental health outcomes

Fewer and shorter-duration hospitalizations

Less high-blood pressure and cardiovascular disease

A longer lifespan
However, medical science has also revealed that religion and spirituality, under other circumstances, can be harmful to health. These dual attributes of spirituality—health-giving and health-destroying—present a perplexing question: Just what does a health-enhancing spirituality look like?
Drs. DeRose and Steinke answer this very question by presenting eight timeless prescriptions for spiritual health that transcend religious persuasions and denominational affiliations. Optimize your spiritual health with cutting-edge insights supported by medical science!
Note: This 100-minute DVD summarizes and illustrates material found in Chapter 14 of Dr. DeRose's book, Thirty Days to Natural High Blood Pressure Control. It contains bonus material that can be used to present a comprehensive high-blood pressure seminar in your home, workplace, local community center, or place of worship.