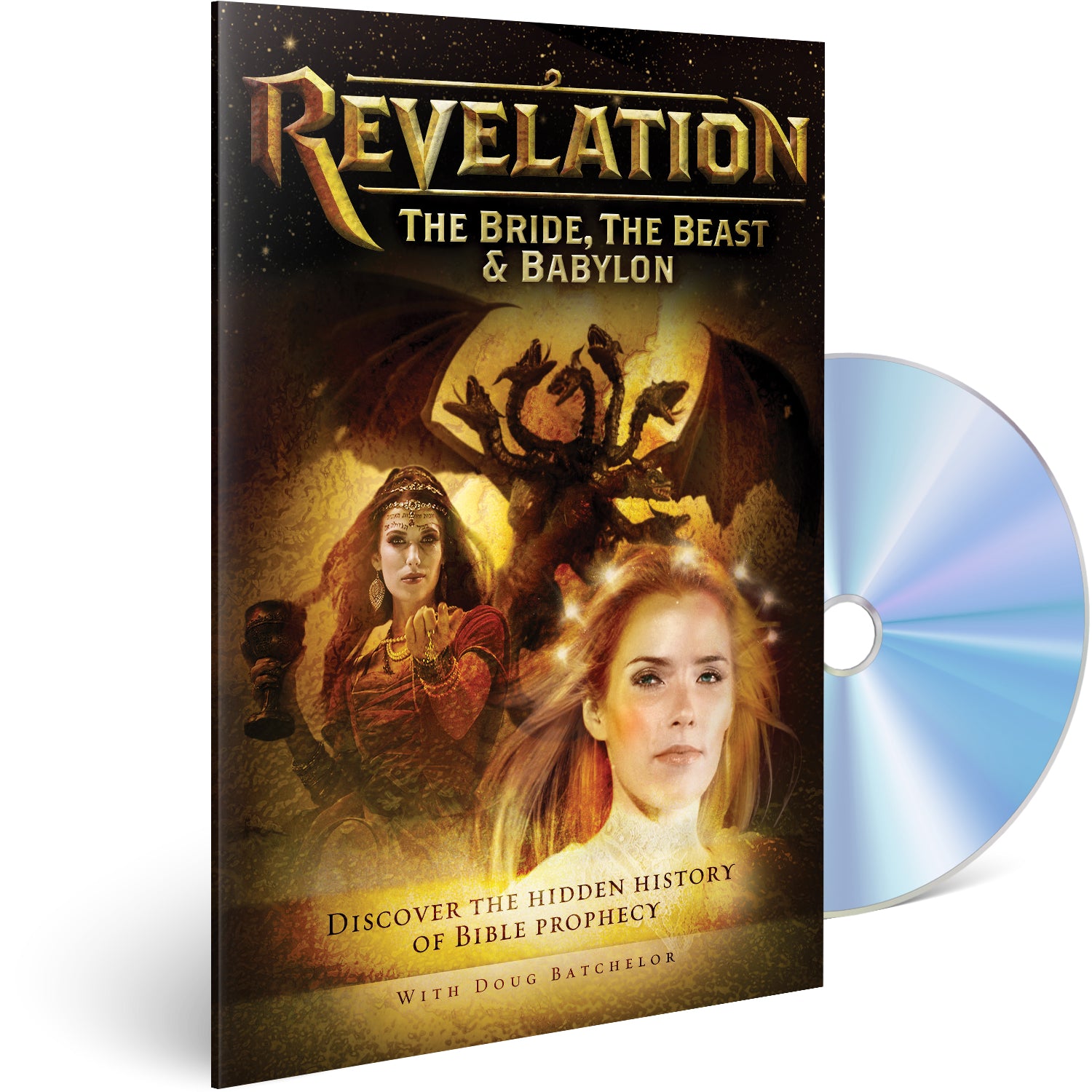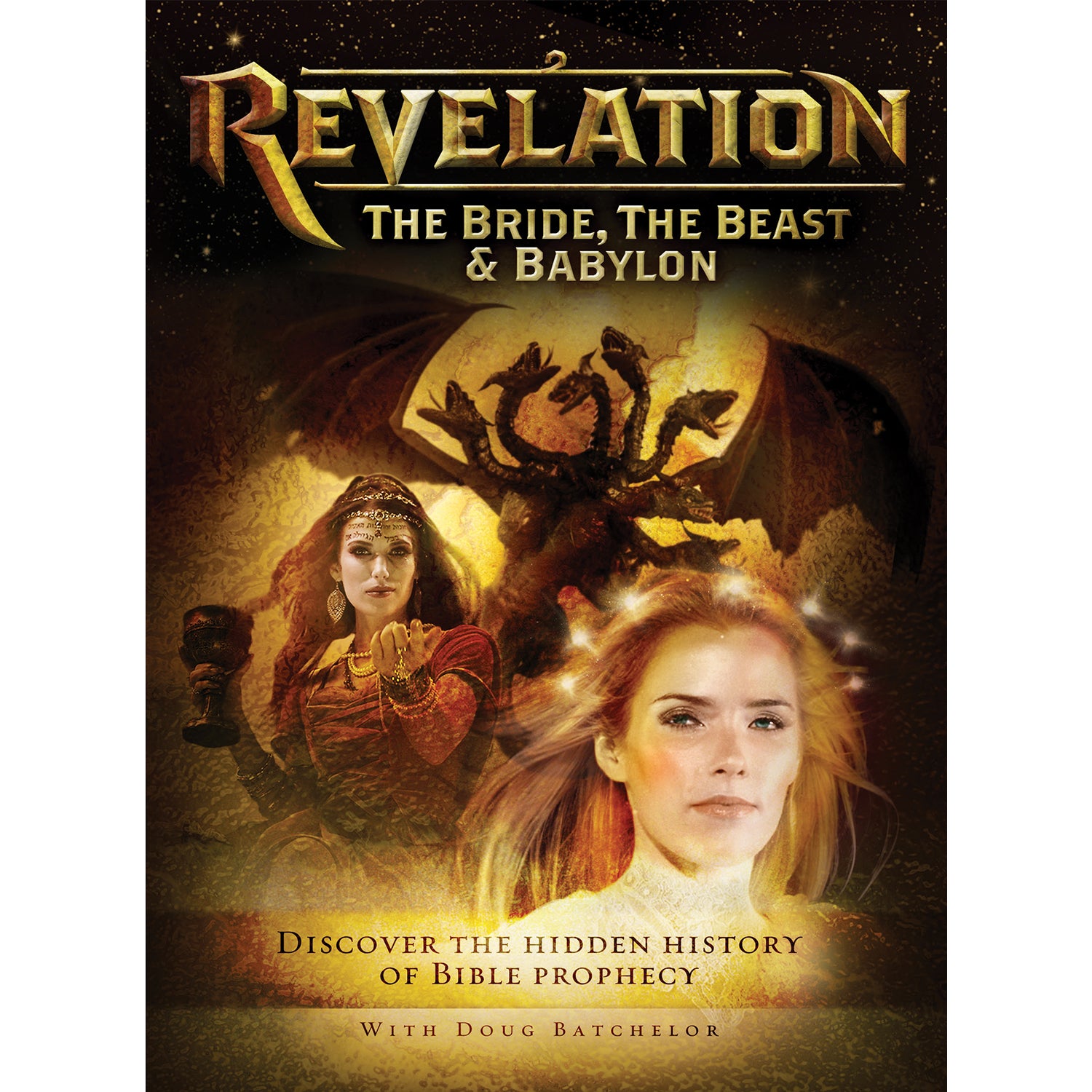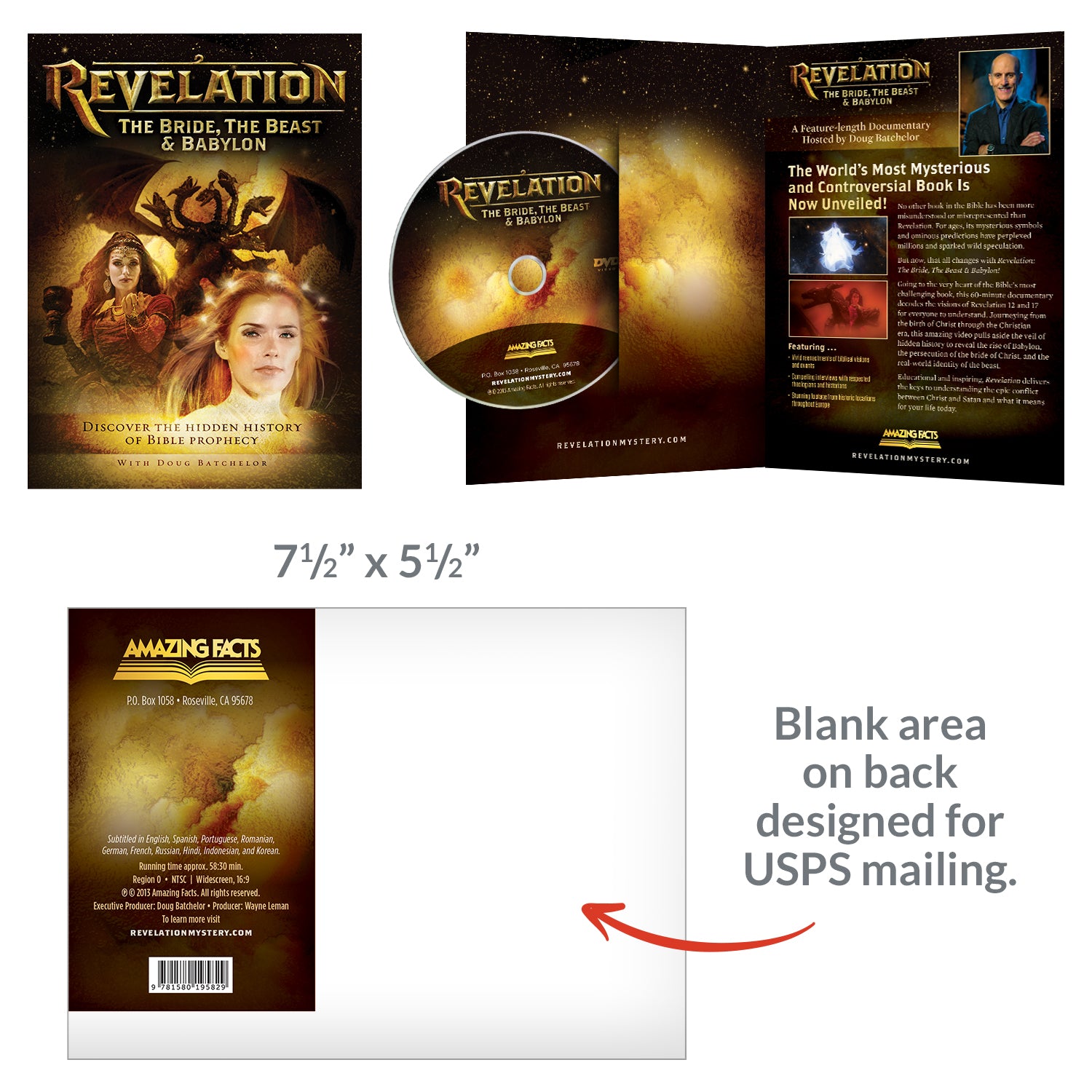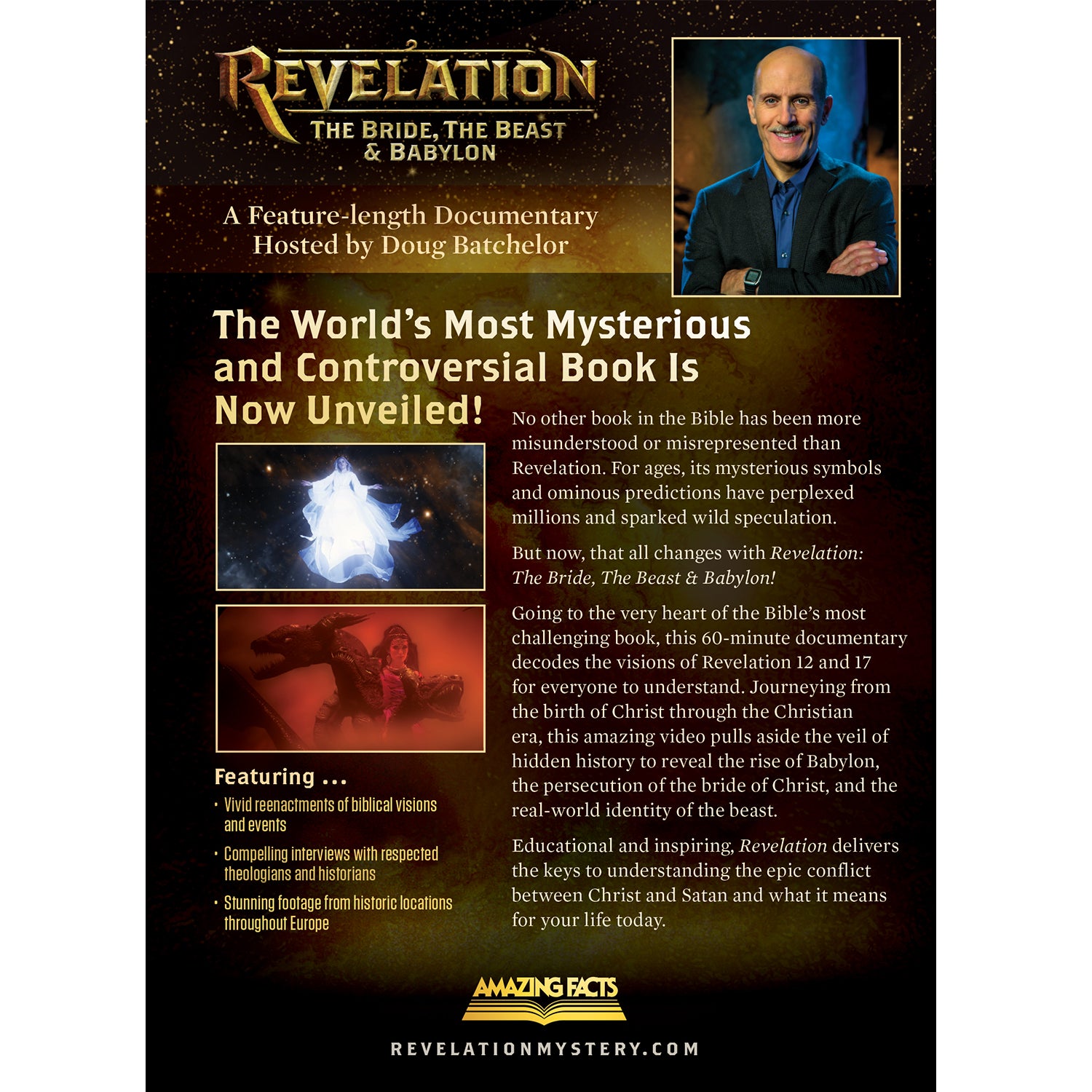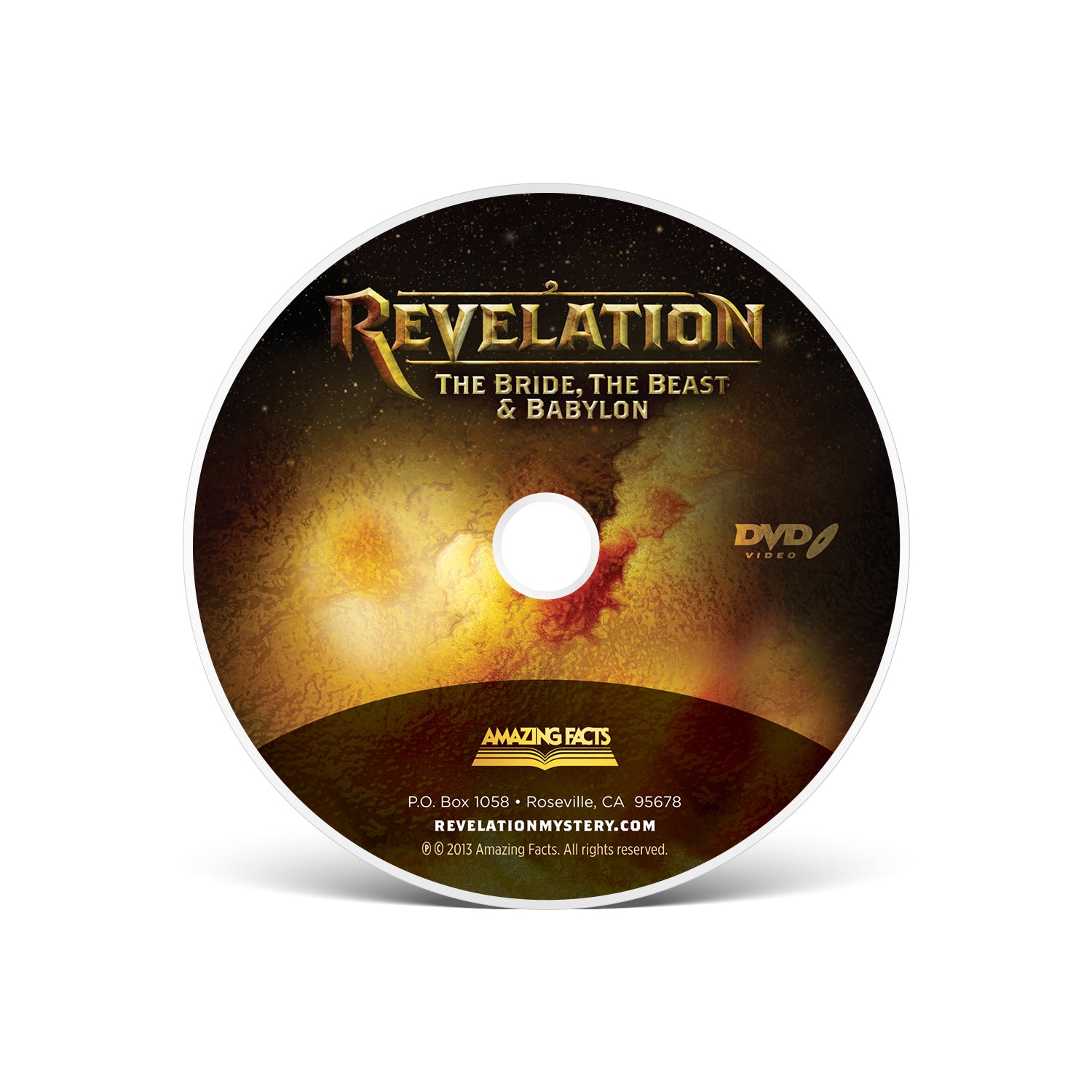 Revelation: The Bride, The Beast & Babylon DVD (Sharing Edition) by Doug Batchelor
In stock
Pickup available at 1
Usually ready in 2 hours
Revelation: The Bride, The Beast & Babylon DVD (Sharing Edition) by Doug Batchelor
1
Pickup available, usually ready in 2 hours
6615 Sierra College Boulevard
Granite Bay CA 95746
United States
+19164343880
A Feature-length Documentary Hosted by Doug Batchelor

The World's Most Mysterious and Controversial Book Is Now Unveiled!

No other book in the Bible has been more misunderstood or misrepresented than Revelation. For ages, its mysterious symbols and ominous predictions have perplexed millions and sparked wild speculation.

But now, that all changes with Revelation: The Bride, The Beast & Babylon!

Going to the very heart of the Bible's most challenging book, this 60-minute documentary decodes the visions of Revelation 12 and 17 for everyone to understand. Journeying from the birth of Christ through the Christian era, this amazing video pulls aside the veil of hidden history to reveal the rise of Babylon, the persecution of the bride of Christ, and the real-world identity of the beast.

Educational and inspiring, Revelation delivers the keys to understanding the epic conflict between Christ and Satan and what it means for your life today.

Featuring …
Compelling interviews with respected theologians and historians
Stunning footage from historic locations throughout Europe
Vivid reenactments of biblical visions and events.
Subtitle Languages: English, Spanish
Voiceover Language: English
Customer Reviews
Daniel S.

United States
10/02/2023
Excellent preview of the end days
Everything by Doug Batchelor has been a spiritual inspiration for me. If I need help understanding anything in the Bible, I know I will find my answers through Pastor Batchelor.
Samuel H.

United States
10/01/2023
Revelation: The Bride, The Beast
Generally positive - it really explained thins I never knew.
Deborah R.

United States
05/02/2023
Books....DVDs etc..........
I love EVERYTHING I get from Amazing Facts!!!!!!
Timothy H.

United States
05/01/2023
Great video
Very informative really open my eyes as to end times church
03/29/2023
Costly
Amazing facts I've never been able to afford, i feed the homeless five days a week im on disability I've always exspressed to AF that I'd love to have there literature to give out , don't you have out dated or even messed up material you could pass along to me to give out , I give out old issues of Sign's of the times and they love them . Please help me sincerely Deaconsonnycarr of manna man ministry 2017 n grove Ave Wichita Kansas 67214
Gregory G.

United States
01/23/2023
Very Satisfied
Good material and very easy to understand.
James G.

United States
09/03/2022
Revelation the bride the beast
Great