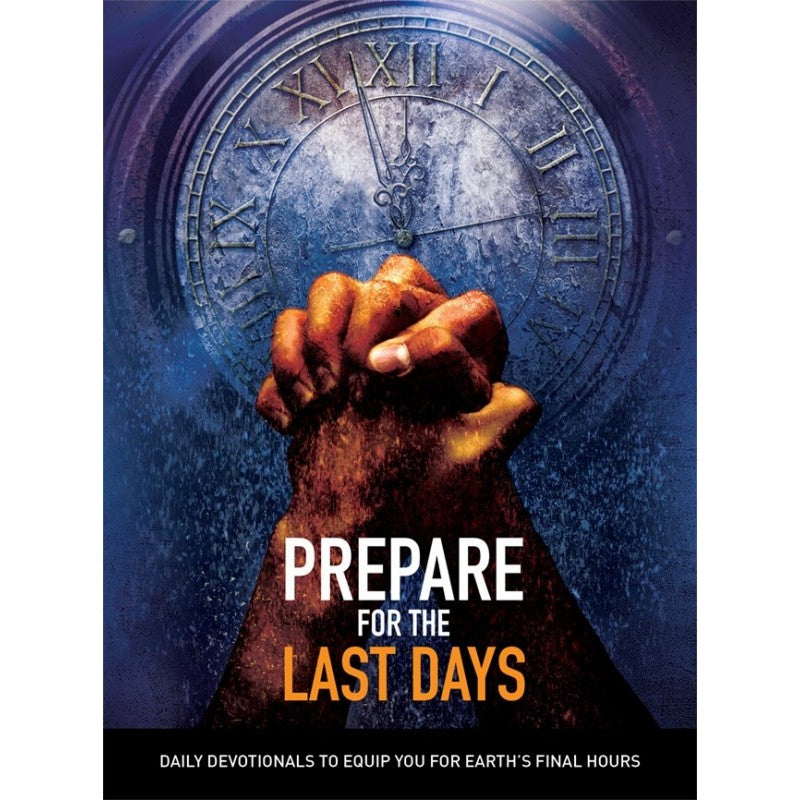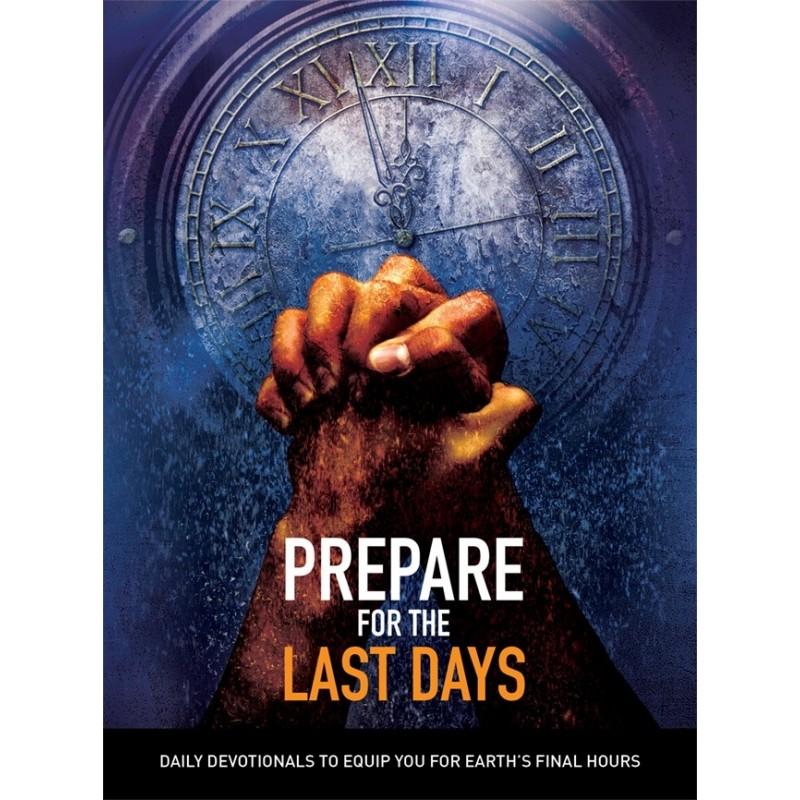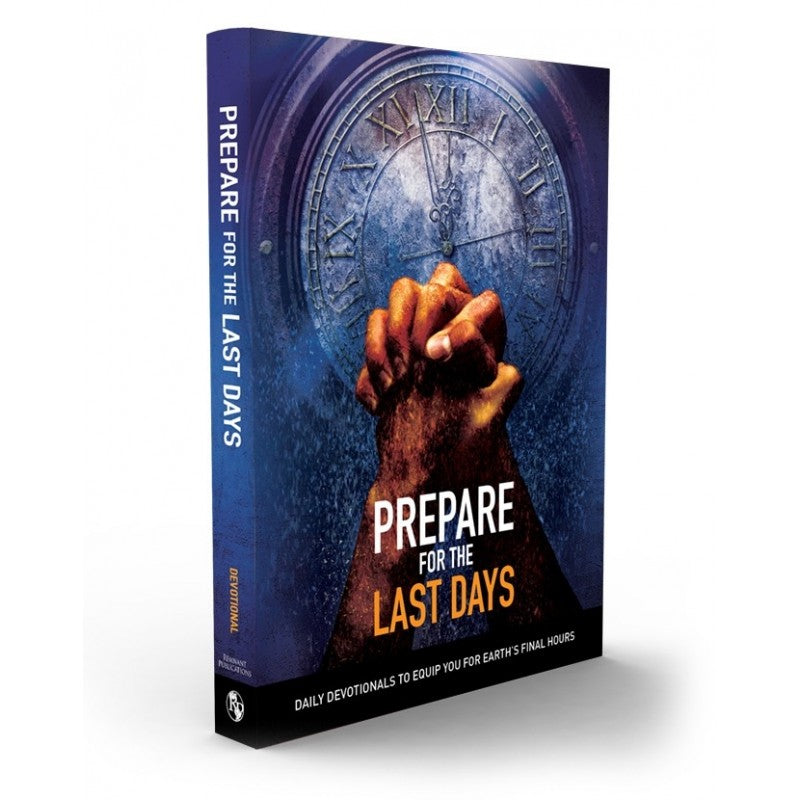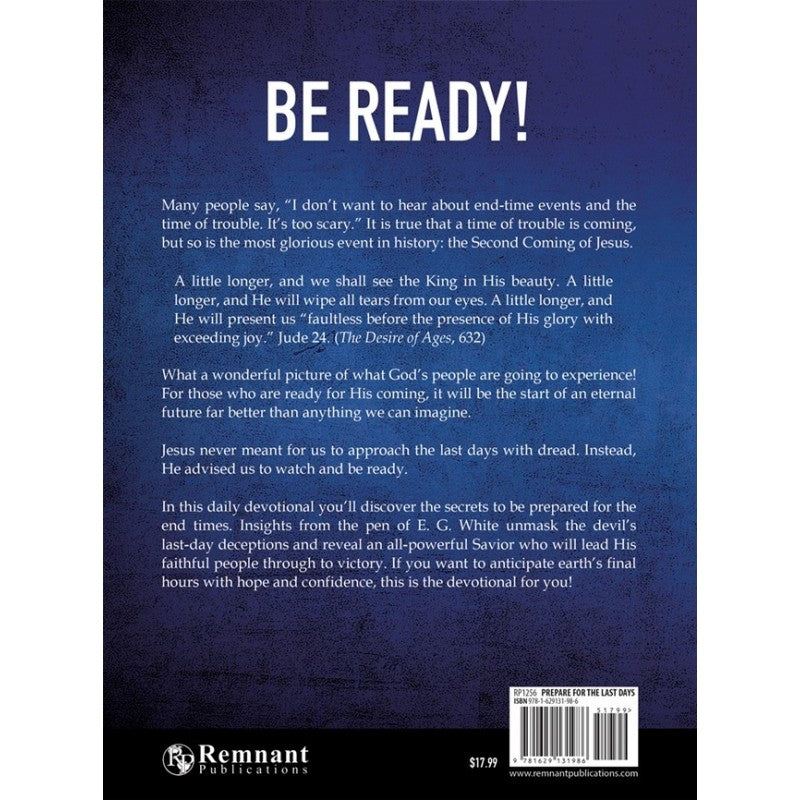 Prepare for the Last Days: Daily Devotional by Remnant Publications
Many people say, "I don't want to hear about end-time events and the time of trouble. It's too scary." It is true that a time of trouble is coming, but so is the most glorious event in history: the Second Coming of Jesus.
A little longer, and we shall see the King in His beauty. A little longer, and He will wipe all tears from our eyes. A little longer, and He will present us "faultless before the presence of His glory with exceeding joy." Jude 24. (
The Desire of Ages
, 632)
What a wonderful picture of what God's people are going to experience! For those who are ready for His coming, it will be the start of an eternal future far better than anything we can imagine.
Jesus never meant for us to approach the last days with dread. Instead, He advised us to watch and be ready.
In this daily devotional you'll discover the secrets to be prepared for the end times. Insights from the pen of E. G. White unmask the devil's last-day deceptions and reveal an all-powerful Savior who will lead His faithful people through to victory. If you want to anticipate earth's final hours with hope and confidence, this is the devotional for you!


Product Details:
| | |
| --- | --- |
| Author: Ellen White | Pages: 384 |
| Publisher: Amazing Facts | Format: Hardcover |
| Publication Date: 2018 | ISBN: 9-781-62913-198-6 |
Customer Reviews
sandra

United States
10/02/2022
please read this.
I love it. I am reading it every day and it is inspiring and rewarding.
sandra

United States
09/07/2022
please read this book
I started it in the middle of the year. It has given me more insight, things to ponder, points to look up. My Jesus loves me more than I ever imagined. If not then why did He give us all this information and encouragement.
Rick G.

United States
04/03/2022
Wake up call
These messages from over a Century ago, seem as though they were Written Today. The end time is very near.
Joyce S.

United States
09/02/2021
Start your day.
This is one of the best daily devotionals ever. I will use this every year. It would make a perfect gift.