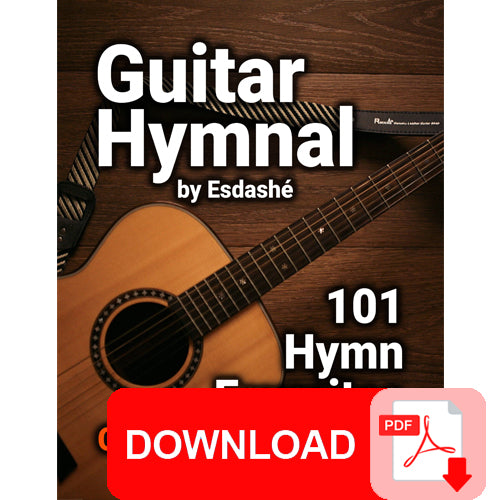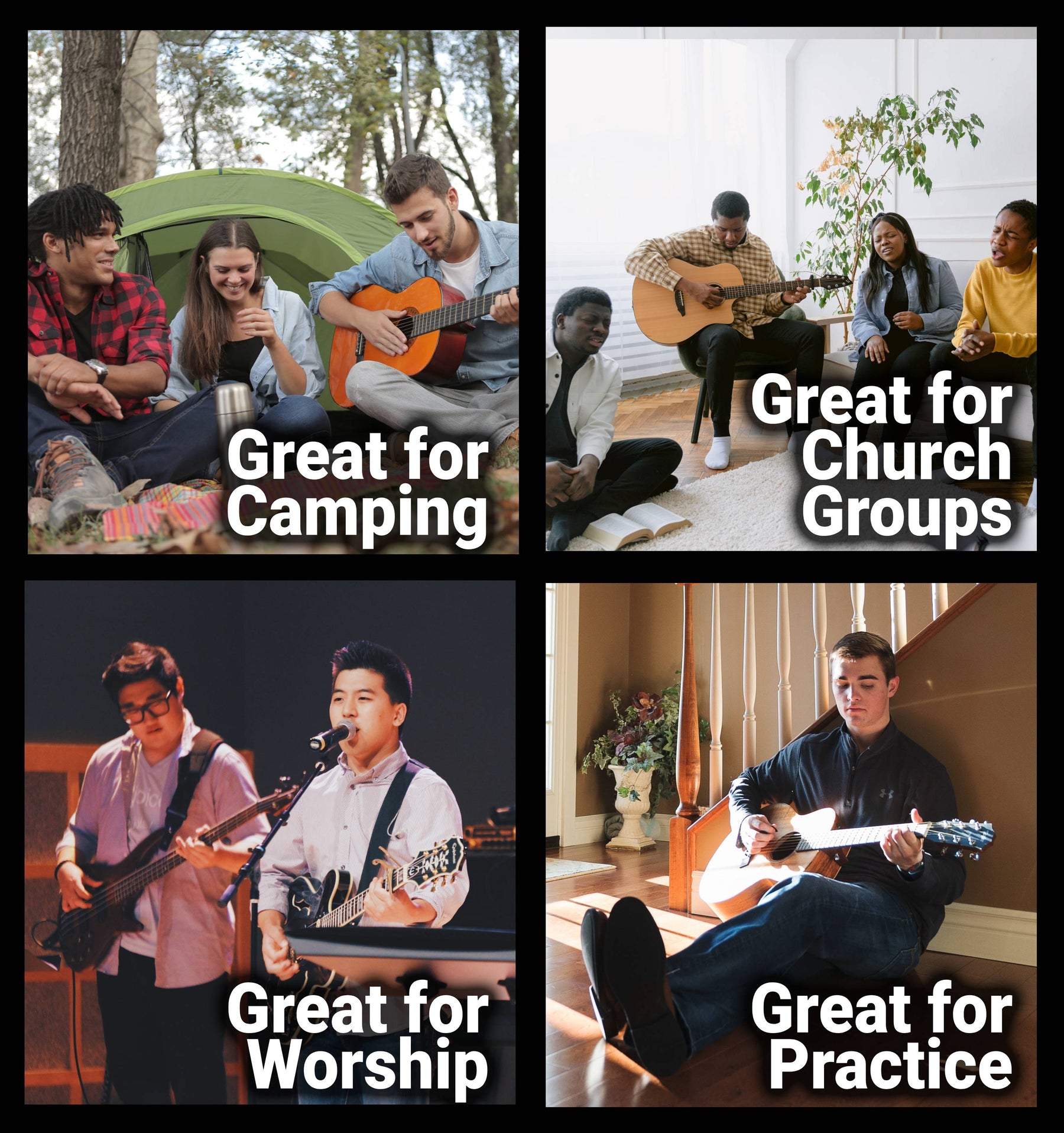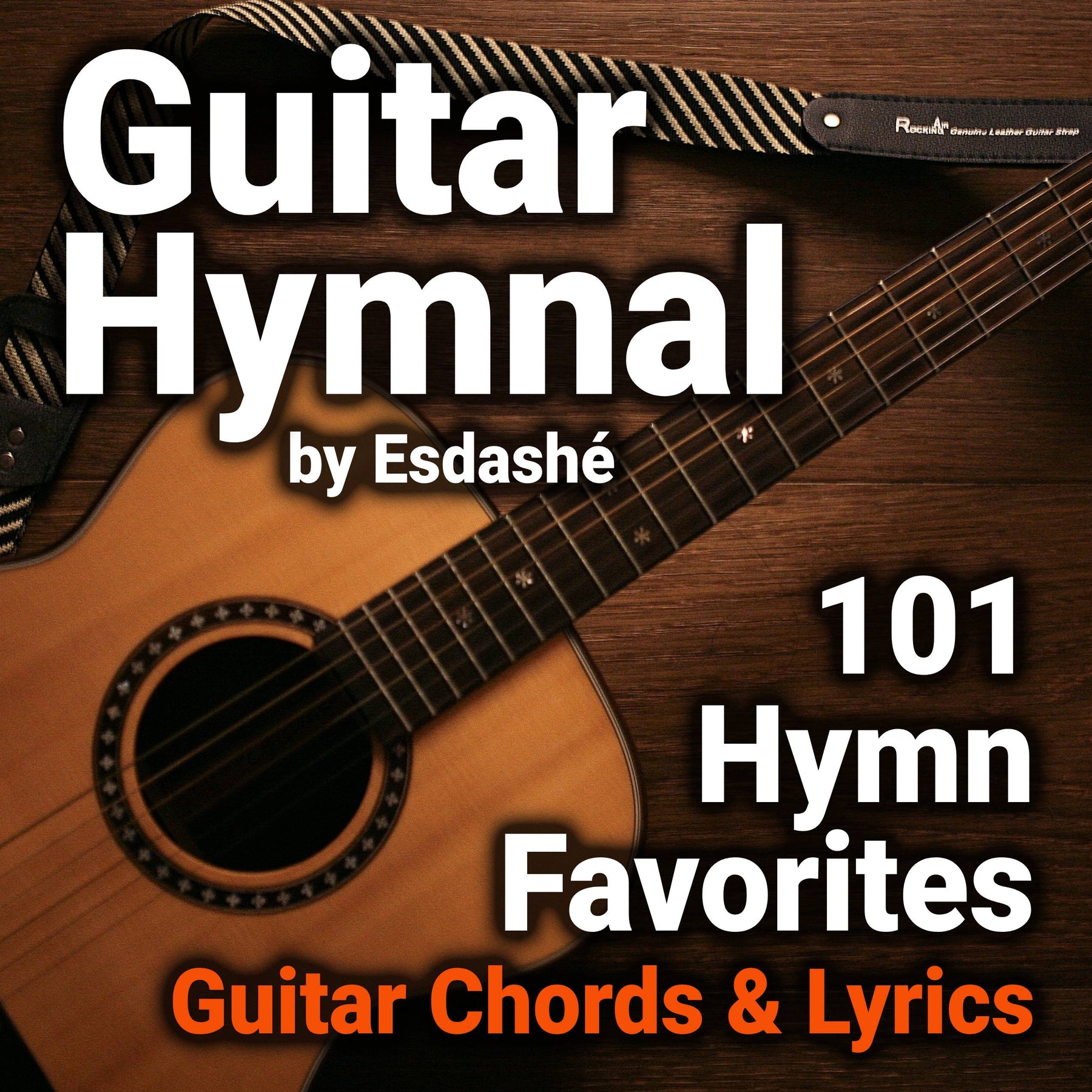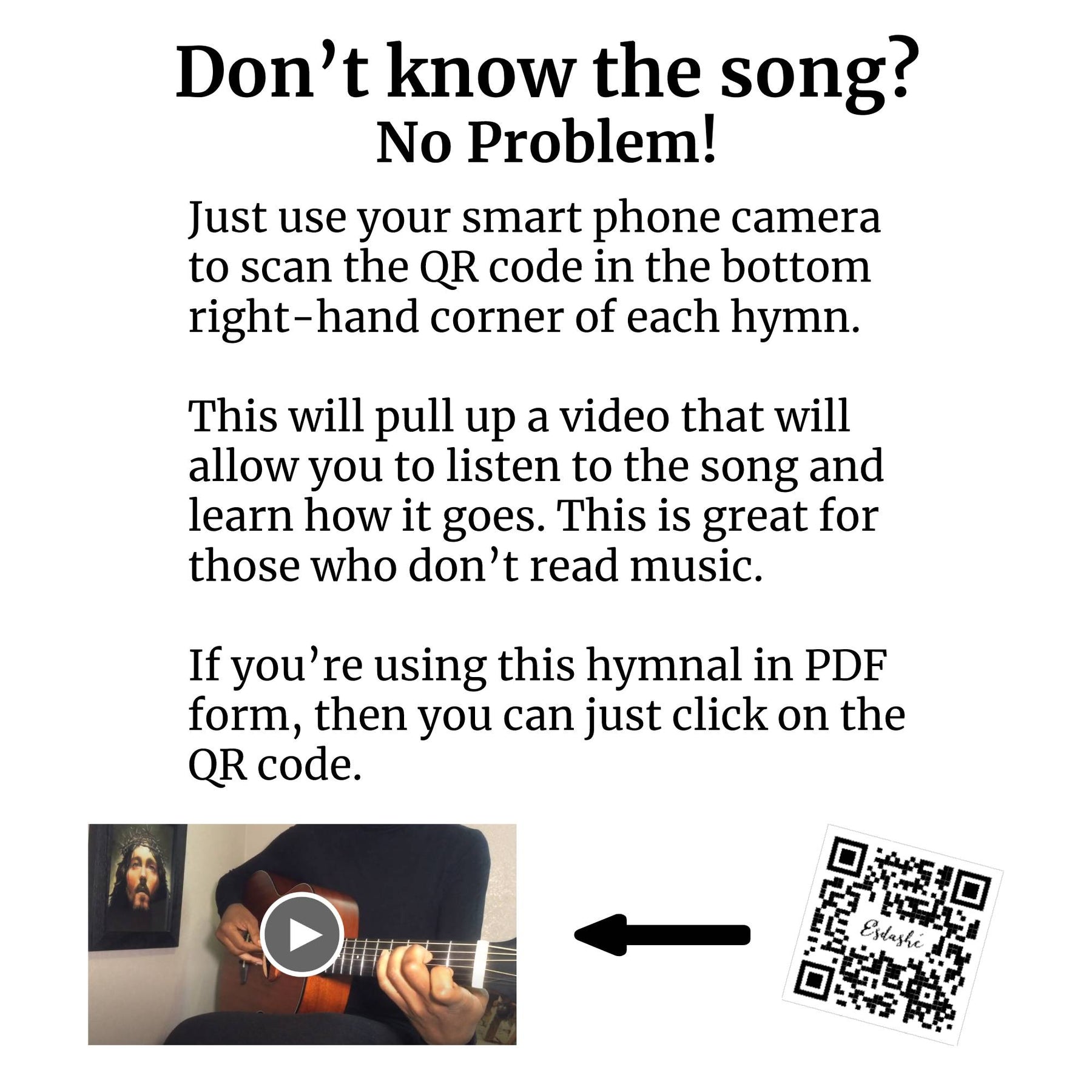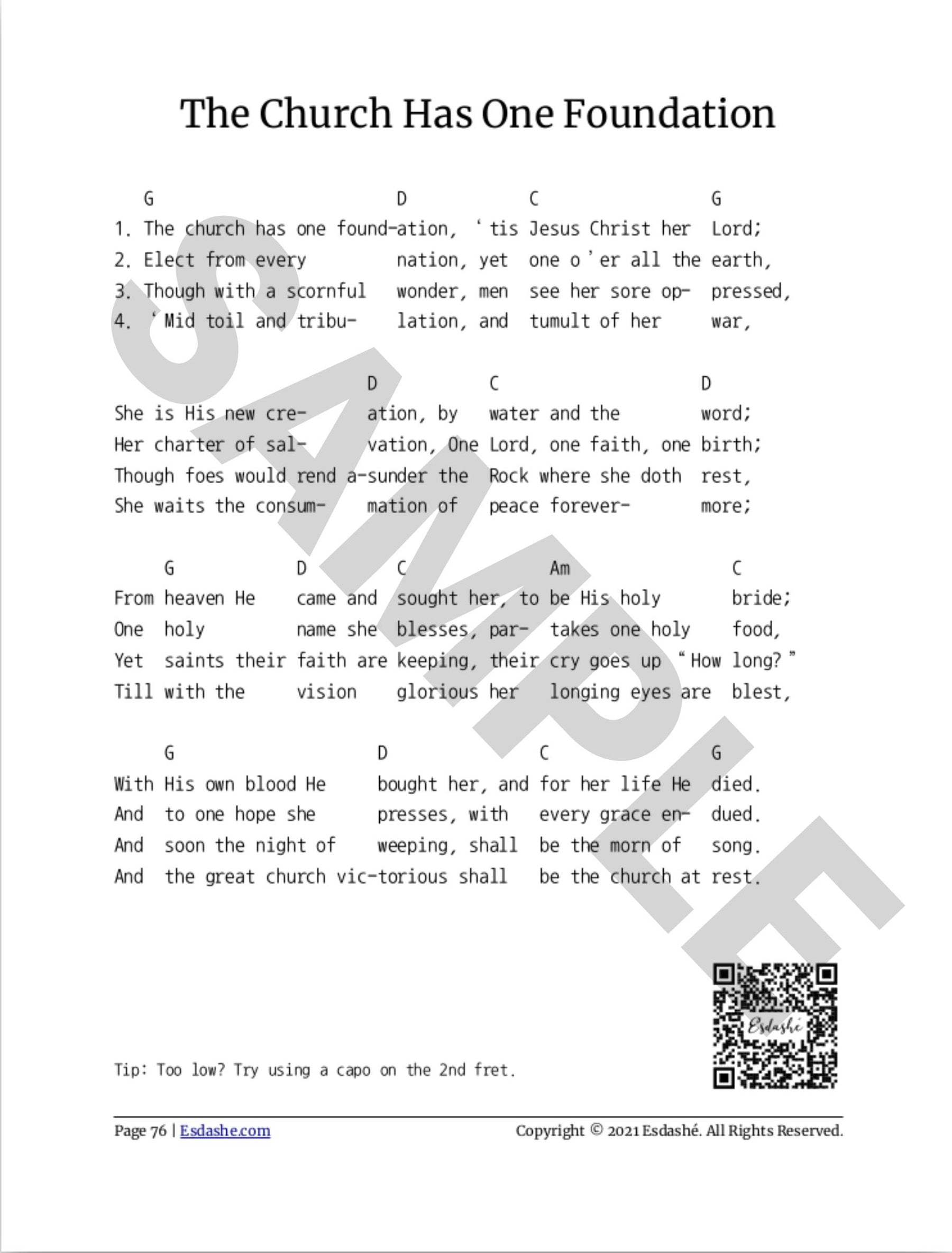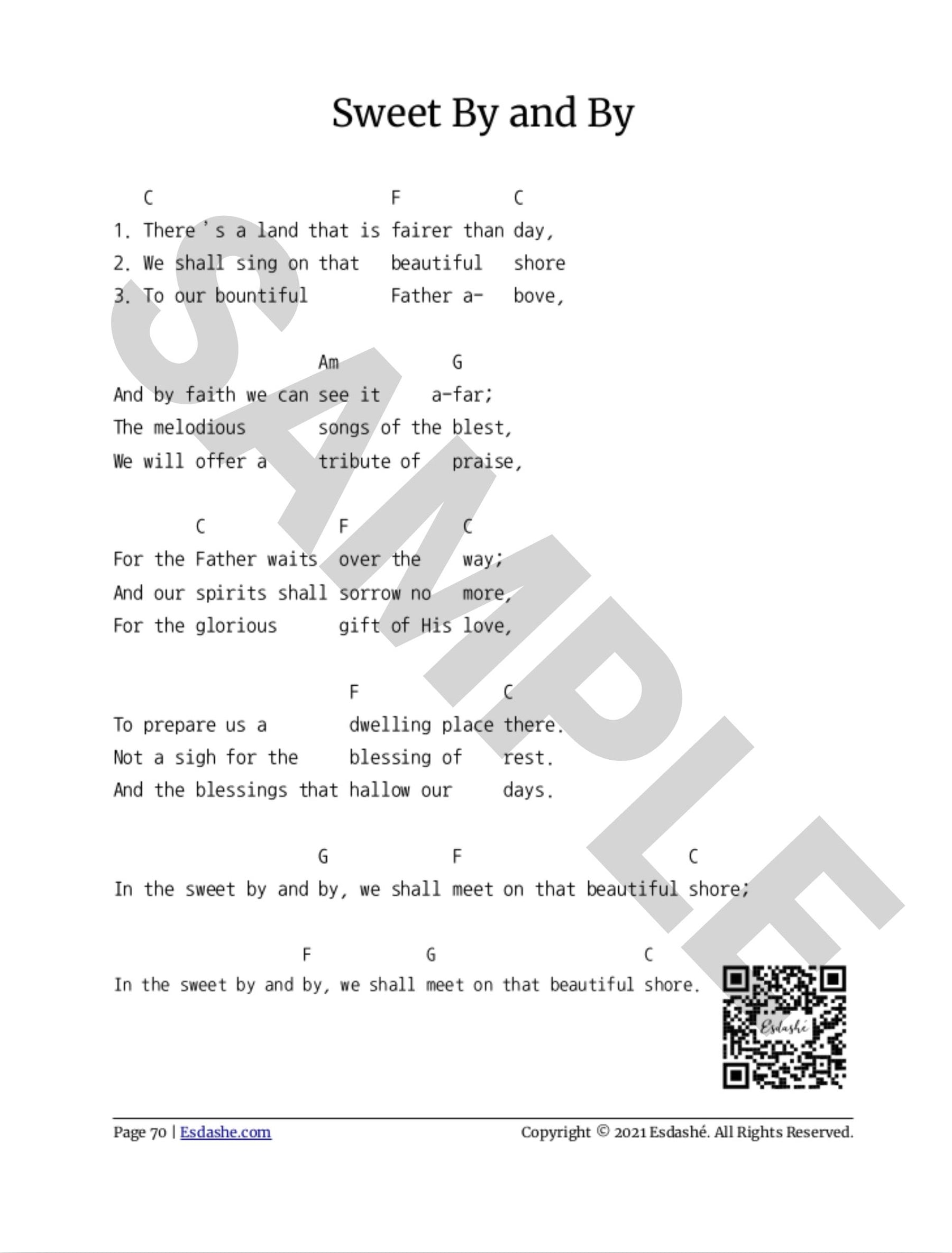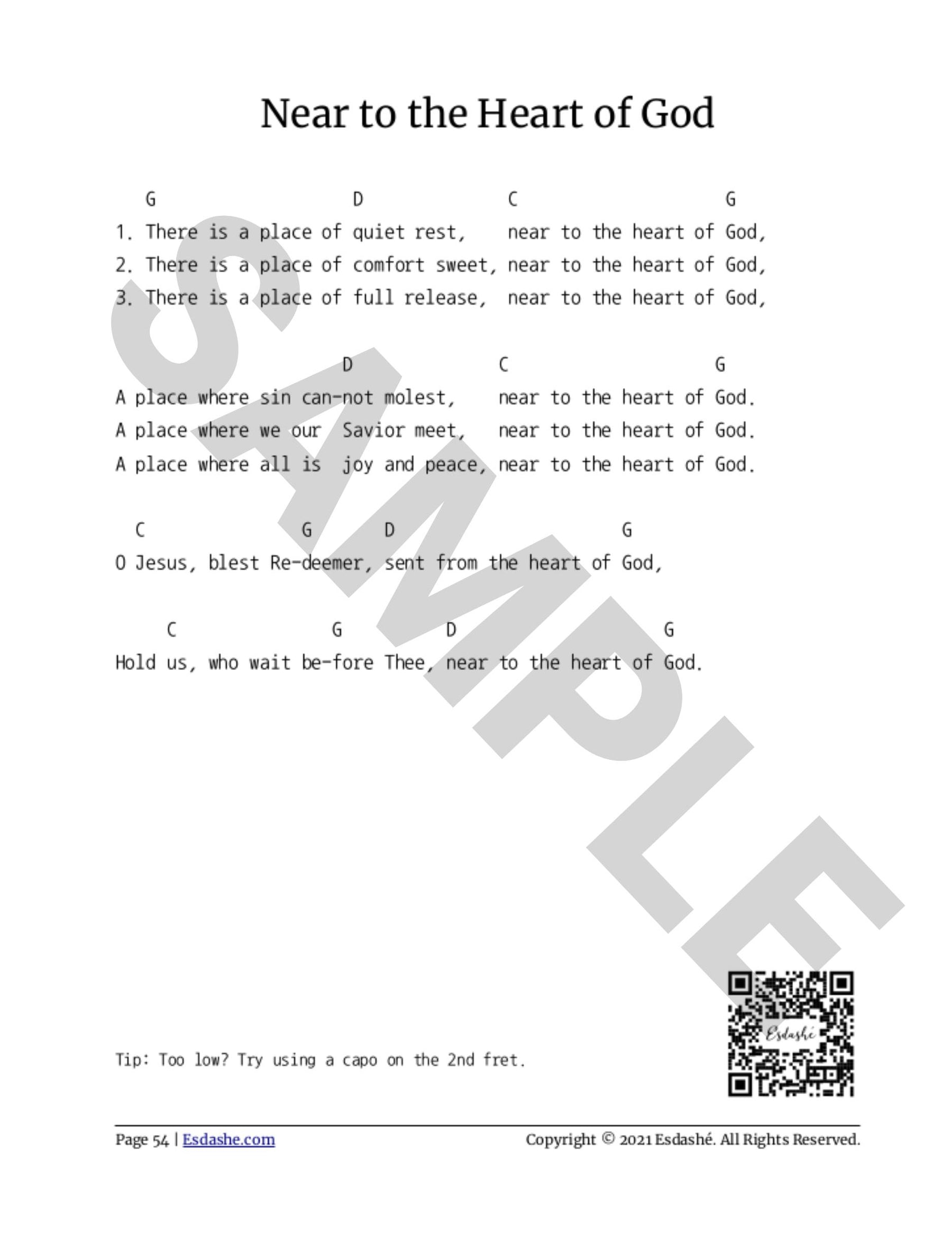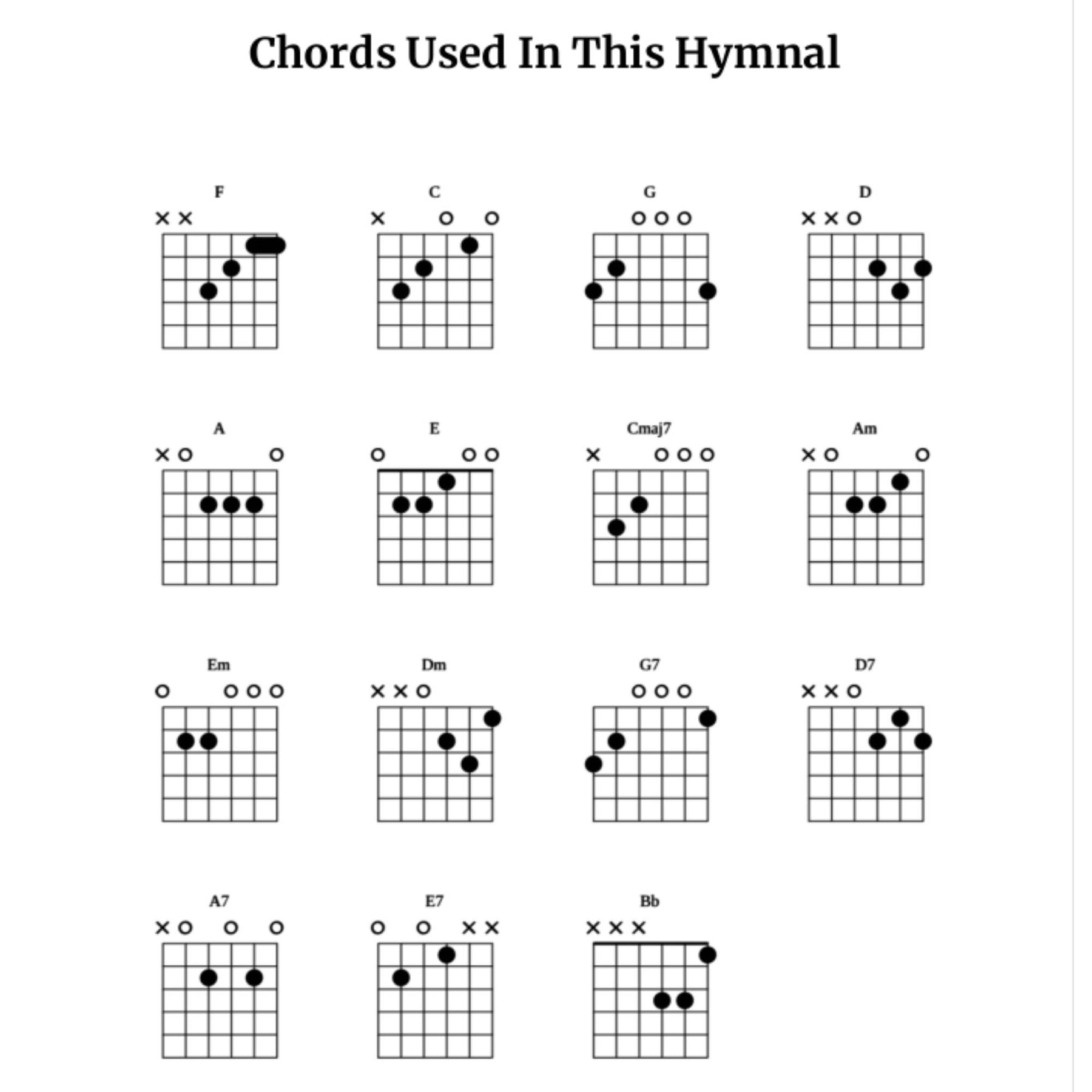 (PDF Download) Guitar Hymnal Chord Book - Lyrics and Chords Only (101 Hymns) by Esdashé
THIS IS THE PDF FILE DOWNLOAD
NOT the physical book (Download size

 2.3

 MB)
 This may be the most unique guitar hymnal that you'll come across. Each hymn has been formatted to fit on one page in such a way that you can see all of the lyrics and the chords at the same time! This means that you can sing along for the entire song and not just for the first verse as many chord books are fashioned. Each hymn is formatted with extra spaces to show where chord switching should occur.  (Please see the sample hymns in the images)
The playing level is beginner to intermediate. You'll find some very easy arrangements as well as some that are a bit more challenging.
Don't know the songs?
-----------------------------------
No problem! Just use your smart phone camera to scan the QR code in the bottom right-hand corner of each hymn. This will pull up a video that will allow you to listen to the song and learn how it goes. This is great for those who don't read music. If you're using this hymnal in PDF form, then you can just click on the QR code.
* Please note that this hymnal just contains guitar chords, not piano music.
After purchase you will receive a 119 page PDF file that you print off yourself. It contains, a chord chart, the circle of fifths, instruction on how to transpose, as well as  the following 101 hymns:
Abide With Me
All Hail the Power of Jesus' Name
All That Thrills My Soul
All the Way
A Mighty Fortress
And Can It Be?
A Shelter in the Time of Storm
At the Cross
Awake, Awake to Love and Work
Blessed Assurance, Jesus Is Mine!
Blest Be the Tie That Binds
Come, Thou Fount of Every Blessing
Day Is Dying in the West
Eternal Father, Strong to Save
Face to Face
Fairest Lord Jesus
Faith Is the Victory
For the Beauty of the Earth
Give Me the Bible
God Be With You
God Will Take Care of You
Have Thine Own Way, Lord
He Hideth My Soul
He Leadeth Me
Holy, Holy, Holy
I Know Whom I Have Believed
I Love to Tell the Story
I'm a Pilgrim
Immortal, Invisible, God Only Wise
I Must Tell Jesus
In a Little While We're Going Home
I Need Thee Every Hour
I Surrender All
It Is Well With My Soul
I Will Follow Thee
Jesus Is All the World to Me
Jesus Is Coming Again
Jesus Loves Me
Jesus Paid It All
Jesus Saves
Lead Me Lord
Leaning on the Everlasting Arms
Live Out Thy Life Within Me
Lord, I Want to Be a Christian
Marching to Zion
More About Jesus
My Faith Has Found a Resting Place
My Faith Looks Up to Thee
My Jesus, I Love Thee
My Lord and I
Nearer My God, to Thee
Nearer, Still Nearer
Near the Cross
Near to the Heart of God
O, How I Love Jesus
O Love That Will Not Let Me Go
O Sacred Head Now Wounded
Pass me Not, O Gentle Savior
Power in the Blood
Praise God, From Whom All Blessings
Praise Him! Praise Him!
Praise to the Lord
Rejoice, Ye Pure in Heart
Rock of Ages
Savior, Like a Shepherd
Shall We Gather at the River
Showers of Blessing
Sound the Battle Cry
Standing on the Promises
Sweet By and By
Sweet Hour of Prayer
Take My Life and Let It Be
Take the Name of Jesus With You
Take Time to Be Holy
Tell Me the Story of Jesus
The Church Has One Foundation
This Is My Father's World
'Tis So Sweet to Trust in Jesus
Trust and Obey
We Gather Together
What a Friend We Have in Jesus
What Heavenly Music
When He Cometh
When I Survey the Wondrous Cross
When Morning Gilds the Skies
When the Roll Is Called Up Yonder
When We All Get to Heaven
Wonderful Words of Life
Worthy, Worthy Is the Lamb
Christmas Songs
-------------------------------
Good Christians, Now Rejoice
Hark! the Herald Angels Sing
It Came Upon the Midnight Clear
Joy to the World
O Come, All Ye Faithful
O Come, O Come, Immanuel
O Little Town of Bethlehem
Once in Royal David's City
Silent Night, Holy Night
The First Noel
We Three Kings
What Child Is This!
Copyright © 2021 Esdashe. All Rights Reserved. (www.esdashe.com)
For personal use only. Not to be duplicated, modified, distributed, or resold. Thank you for your honesty in abiding by these terms.
Customer Reviews
Meresa M.

Canada
09/07/2022
Great resource for our family worship
We dont play piano but we have a guitar and its very convenient to have a ready hymnal in chords. Thanks for this compilation. We can easily learn the unfamiliar hymns too with the sample videos. I just hope the videos were done in full song not just one stanza to be able to practice all stanza with the accompaniment /video first. Overall, thanks for making it available on pdf so I dont need to pay for shipping and tax since Im in a diff. country. God bless!