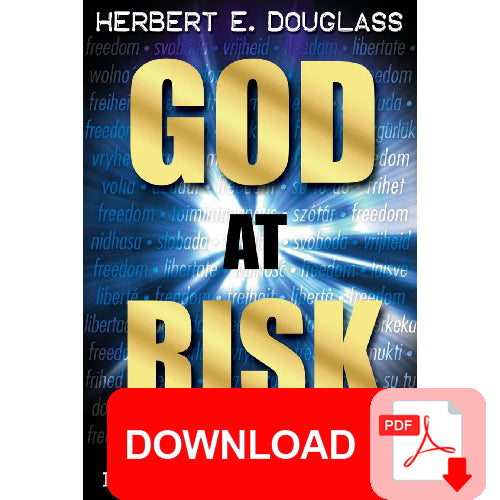 (PDF Download) God at Risk: The Cost of Freedom in the Great Controversy by Herbert Douglass
THIS IS THE PDF FILE DOWNLOAD
NOT the physical book (Download size

 5.1

 MB)
The time is ripe for a fresh look at spiritual warfare and the why of suffering. We live in a new day. For at least three centuries, the word has gone out, especially from academic circles, that modern men and women could no longer believe in the supernatural.

Few doubt today that the academic landscape has radically changed into what has been called the "postmodern" period. What once was ridiculed as irrelevant has now been overtaken by a world awash in all kinds of interest in spirituality, such as angels and otherworldly interventions, surrounded by a remarkable surge of interest in Eastern thought and religions. That there is reality beyond the physical realm is becoming a plausible notion.

For the general public at least, the idea of a universe inhabited with spiritual beings that affect the affairs of this world is becoming as axiomatic as the law of gravity.
Dr. Douglass splits open the spiritual veil to get an unflinching, behind-the-scenes look at the great controversy between good and evil and the seismic aftershocks affecting your life today. Features hundreds of pages of detailed, faithful, and eye-opening commentary from a respected theologian.
Table Of Contents
Prelude…………………………………………………………………10
Introduction……………………………………………………………16
Chapter 1 Love Wins But Also Loses………………………………23
Chapter 2 Who Was Lucifer (Alias Satan)–The First Rebel?……29
Chapter 3 Satan's Highest Goal Since He Rebelled………………37
Chapter 4 Basic Characteristics Of Evil……………………………42
Chapter 5 God Meets Satan's Charges………………………………45
Chapter 6 The Great Controversy Theater Moved To Planet Earth…………………50
Chapter 7 God Tells His Side Of The Controversy…………………58
Chapter 8 Jesus Proves Satan To Be A Liar…………………………62
Chapter 9 Jesus Identifies With Human Beings……………………66
Chapter 10 Jesus Revealed The Beauty And Immutability Of God's Law………………71
Chapter 11 Jesus Revealed The Consequences Of Sin………………77
Chapter 12 Why Jesus Came To Earth—A Review…………………82
Chapter 13 Did Jesus Ask Too Much From Human Beings?………89
Chapter 14 How Jesus As High Priest Relates To The Great Controversy…………………91
Chapter 15 What Kind Of Job Description Did Jesus Give The Church?…………………105
Chapter 16 How the Christian Witness Relates To The Great Controversy……………110
Chapter 17 How Church Members Become Men and Women Of Faith…………………118
Chapter 18 The New Testament Meaning Of "Righteousness By Faith"…………………121
Chapter 19 How Grace Relates To Faith And Righteousness……131
Chapter 20 How Works Relate To Grace And Faith………………144
Chapter 21 God Leaves Us In The Driver's Seat…………………153
Chapter 22 What Does A Legalist Look Like?……………………160
Chapter 23 When Do We Get the Robe?……………………………173
Chapter 24 Perfection—The Endless Journey……………………178
Chapter 25 What Do Habits Have To Do With The Great Controversy?………………185
Chapter 26 Bible Overview Of The Last Days……………………197
Chapter 27 The Role Of The Investigative Judgment In The Great Controversy……207
Chapter 28 The Harvest Parable Previews The End Of The World…223
Chapter 29 The Health Message Connects With The Great Controversy……………229
Chapter 30 Distinctive Educational Principles Connect With The Great Controversy…234
Chapter 31 Satan Orchestrates His Battle Plan For The Endtimes………………………239
Chapter 32 Re-emergence Of The Papacy As A World Power………258
Chapter 33: Characteristics Of Ultimate Evil………………………275
Chapter 34: Circumstances Contributing To The Coming Crisis—Part 1……………284
Chapter 35: Circumstances Contributing To The Coming Crisis—Part 2……………296
Chapter 36: Universal Peace Through Religious Cooperation……306
Chapter 37: The New Twist—God's Law Suddenly Becomes Important………………315
Chapter 38: National Troubles Blamed On Seventh-day Sabbath-Keeper……………327
Chapter 39. The Seal And The Mark…………………………………338
Chapter 40: The Seven Last Plagues…………………………………347
Chapter 41: How God Protects………………………………………353
Chapter 42: Jesus Described The Kind Of People
Ready For Him To Return………………………357
Chapter 43: Portrait Of The Bridegroom
And His Ten Bridesmaids………………………361
Chapter 44: Profitable And Unprofitable Employees………………365
Chapter 45: The Pivotal Point on Which Our Future Depends……369
Chapter 46: Conditions Yet Unfulfilled—Part 1……………………372
Chapter 47: Conditions Yet Unfulfilled—Part 2……………………376
Chapter 48: Conditions Yet Unfulfilled—Part 3……………………380
Chapter 49: How Will Anyone Know
That The Controversy Is Over?…………………387
Chapter 50: The Universe Eternally Secure—No More Sin!…………391
Chapter 51: A Summary—The Great Controversy Theme Should
Make The Difference In How Men And Women
Of Faith Think And Act In The Endtime………394
Postlude………………………………………………………………403
Appendix A: How We Define Freedom………………………………405
Appendix B: Who Was Lucifer, Now Known as Satan?………………413
Appendix C: "The Heart Of Power"…………………………………414
Appendix D: The Devolution of Envy………………………………424
Appendix E: The Cosmic Conflict Imbedded
In Extra-Biblical Materials……………………426
Appendix F: Wife of Bath Principle (Are There
Things We Should Not Know?)………………429
Appendix G: Providential Moments In World History……………434
Appendix H: The Bible Reveals The Cosmic Conflict
Between Christ And Satan……………………436
Appendix I: Why Jesus Came!………………………………………440
Appendix J: Why Jesus Died!………………………………………448
Appendix K: Faith, The Word That Decides Everything……………453
Appendix L: The Ellipse Of Truth……………………………………458
Appendix M: Recovering Truths Hidden For Ages……………………461
Appendix N: The Two Covenants……………………………………464
Appendix O: The Great Controversy In The Teachings Of Jesus……467
Appendix P: Comparing The End Of The World And Noah's Flood…469
Appendix Q: The Difference Between The Neutral And
Moral Concepts Of Hell………………………473
Bibliography…………………………………………………………475
481 Pages