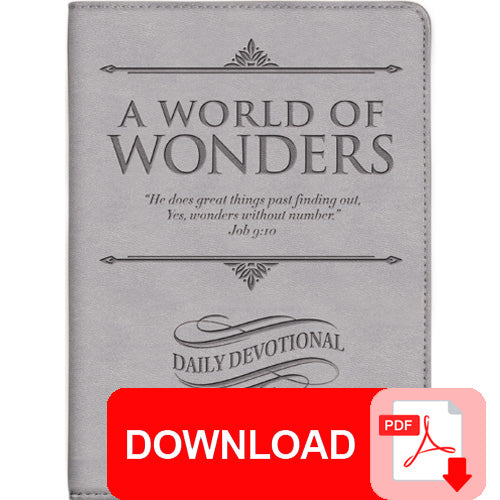 (PDF Download) A World of Wonders: A Daily Devotional by Amazing Facts
THIS IS THE PDF FILE DOWNLOAD
NOT the physical book (Download size

 40.9

 MB)
A Devotional for the Curious
Be inspired every day by God's miraculous world all around us …
 
A World of Wonders is a devotional for the thinkers and the curious. It features 366 short devotionals full of amazing facts to pique your curiosity and see the miracles of God's world.
 
From the Jesus lizard to the Pleiades constellations and the tiny proton, the hand of God can be seen everywhere in the universe. So every day in A World of Wonders, you'll get a devotional that will elevate your mind with amazing facts from nature, science, history, technology, and more—12 distinct categories, one for each month—while communicating a vital spiritual message to connect you to God.
 
• 366 daily entries
• 12 distinct categories, one for each month, including nature, science, history, technology, and more
• Featuring the most fascinating facts and inspiring spiritual lessons from Pastor Doug Batchelor's 19 years as a Bible teacher at Amazing Facts
•  Two-color design and large print for easy reading
• A devotional for every member of the family—each entry will leave you in awe of God and will give you a deeper glimpse into His Word!
• First-ever devotional from Pastor Doug!
 
Says Pastor Doug Batchelor, author and host of Amazing Facts Presents, "A World of Wonders is all about worshiping our Lord for His creative power. It comes out of my own personal interest in collecting amazing facts that can be used to illustrate Bible truths. I'm always looking for new ways to point people to God's amazing book of nature and His Word, so you'll find new and amazing stories about people, historic discoveries, and fascinating creatures in this devotional that can provide readers a deeper glimpse into the wonderful power of God."
 
"He does great things past finding out, yes, wonders without number" (Job 9:10).
Customer Reviews
Write a Review
Ask a Question
Awesome book
I love this book that I can read one page a day for a whole year! It is inpirational and interesting. I would use this book as a devotion book when I pray with the children