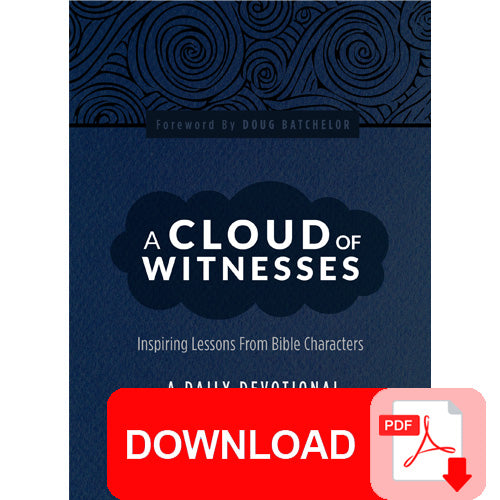 (PDF Download) A Cloud of Witnesses: A Daily Devotional by Amazing Facts
THIS IS THE PDF FILE DOWNLOAD
NOT the physical book (Download size

 4.6

 MB)
Get ready for a fantastic start each day with Amazing Facts' daily devotional!
Discover the vast treasures of God's Word as revealed through the lives of 258 unique and fascinating Bible characters—and learn priceless life lessons from their victories and their failures. You'll be amazed at how each one, in some way, reveals to us the will of Jesus Christ and the beautiful facets of His incredible love.
Features:
Fun and encouraging spiritual lessons for the whole family
One awe-inspiring page for each day of the year Bible verse and prayer with each entry
Organized chronologically into four eras of Bible history
Two-color design Complete index to Bible characters


It is Pastor Doug's personal prayer that as you read about the lives behind the common and uncommon names of the Bible characters, you will become a part of the great cloud of witnesses who lift up the name of Jesus!