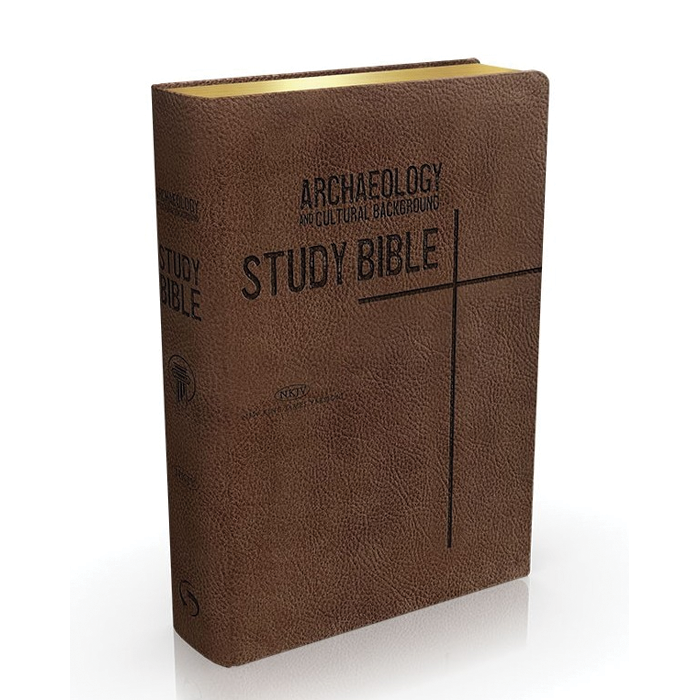 NKJV Archaeology and Culture Background Study Bible (Brown Leather) by Safeliz
This special STUDY BIBLE is a result of many years of work and research. More than 80 leading archaeologists and theologians from different parts of the world participated in this project. About 700 articles were written, peer-reviewed, edited for archaeological and theological accuracy, and finally designed and illustrated. More than 130 videos from biblical lands and archaeological sites have been produced. Hundreds of photos were carefully selected. It includes maps, charts, and spreads that have been colorfully illustrated.
Features:
New King James Version Bible text.

About 700 articles were prepared by more than 80 scholars presenting the best that biblical archaeology has unveiled.
The most important archaeological discoveries are affirming Scripture.
Introductions to each book of the Bible, with information about the author, audience, purposes and themes, the book outline, and a special section on archaeology.
QR code links to more than 130 videos about biblical archaeology.
Hundreds of full-color photos.
Maps, charts, and spreads of interesting objects, places, excavations, and cultural-related facts mentioned in the Bible such as coins, musical instruments, birds, flowers, and more, in full color
Infographics of temples and cities.
A sand clock icon displayed throughout the Old Testament indicates the archaeological periods in which the biblical events took place. Also, the New Testament indicates when the text was written.
A chronological spread of the archaeological periods, the books of the Bible, Bible history, and more.
QR code links to additional articles, including periodic updates.
Complete index of all resources

Font Size is approximately 9 pt.