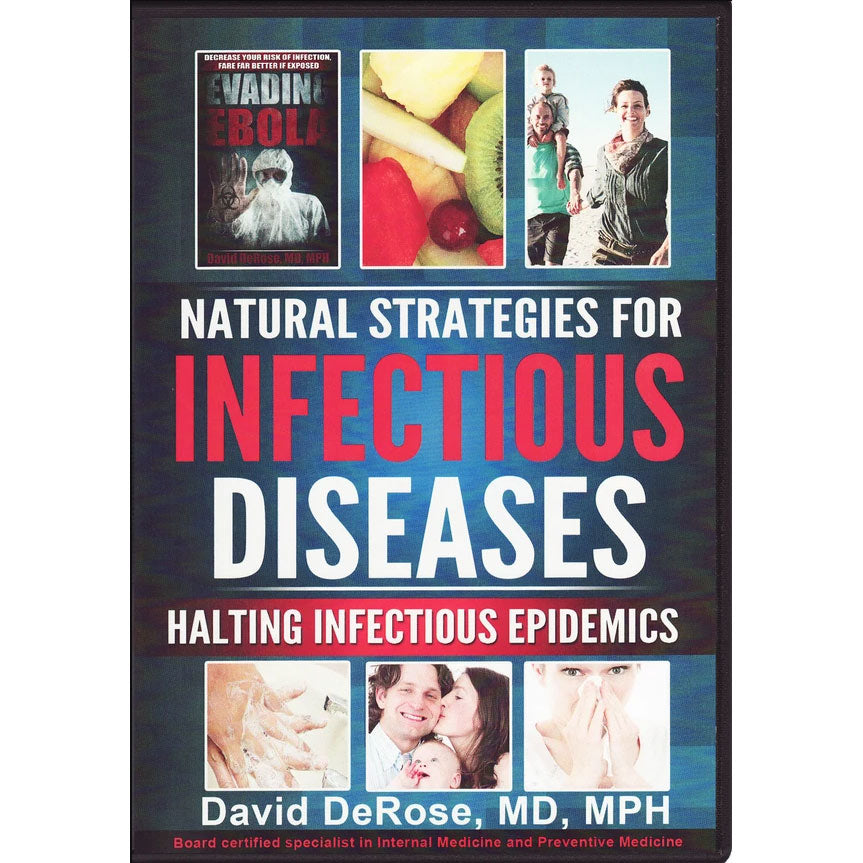 Natural Strategies for Infectious Diseases by David DeRose
Halting Efectious Epidemics
Even in an antibiotic-saturated world, infectious diseases are still serious threats to human health. Influenza, tuberculosis, and hepatitis are worldwide scourges. Ebola is a killer, with the largest outbreak in history happening in 2014. And even every-day infections like the common cold are a nuisance.
But there are simple approaches that can dramatically decrease your risk. Dr. DeRose provides powerful, practical insights into a variety of relevant, cutting-edge topics including: fitness, dietary practices, vaccinations, beverage choices, and hygiene. If you want to stay healthy in the face of the next epidemic — or if you merely want to have an upper hand when it comes to colds and 'flus — you'll want to see these engaging programs.
Two 1-hour presentations on 1 DVD.
For over 25 years Dr. David DeRose has been helping people improve their health through motivational presentations and natural therapies. He brings solid credentials as a board-certified specialist in both Internal Medicine and Preventive Medicine, in addition to holding a master's degree in Public Health with an emphasis on Health Promotion and Health Education. Known for his encouraging presentations, Dr. DeRose is an award-winning public speaker, published medical researcher, syndicated talk radio host, and experienced college teacher.
Customer Reviews
Write a Review
Ask a Question
10/02/2020
Denise M.

United States
Informative and Reassuring
This DVD is not only very informative from an expert in his filed of contagious disease but it is reassuring of the lifestyle that helps prevent and maintain good health according to what the word of God had us follow from the beginning. This very balance is what helps us overcome disease.