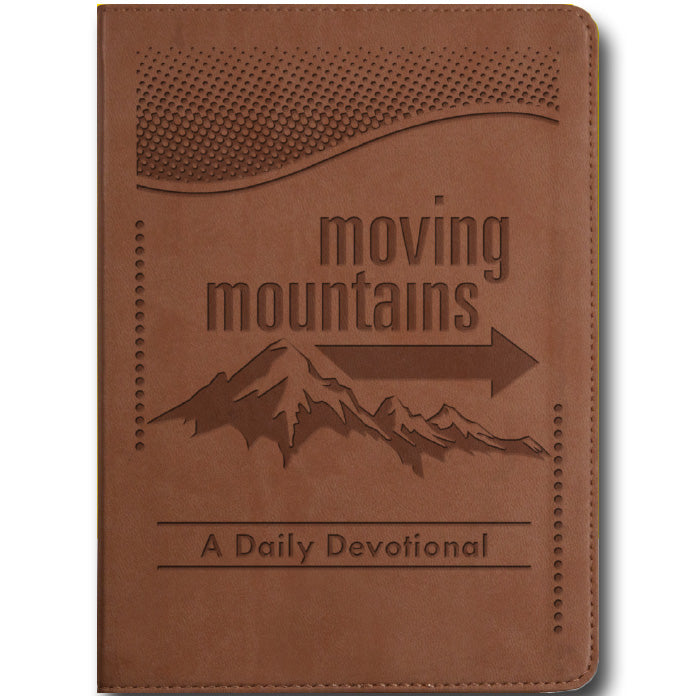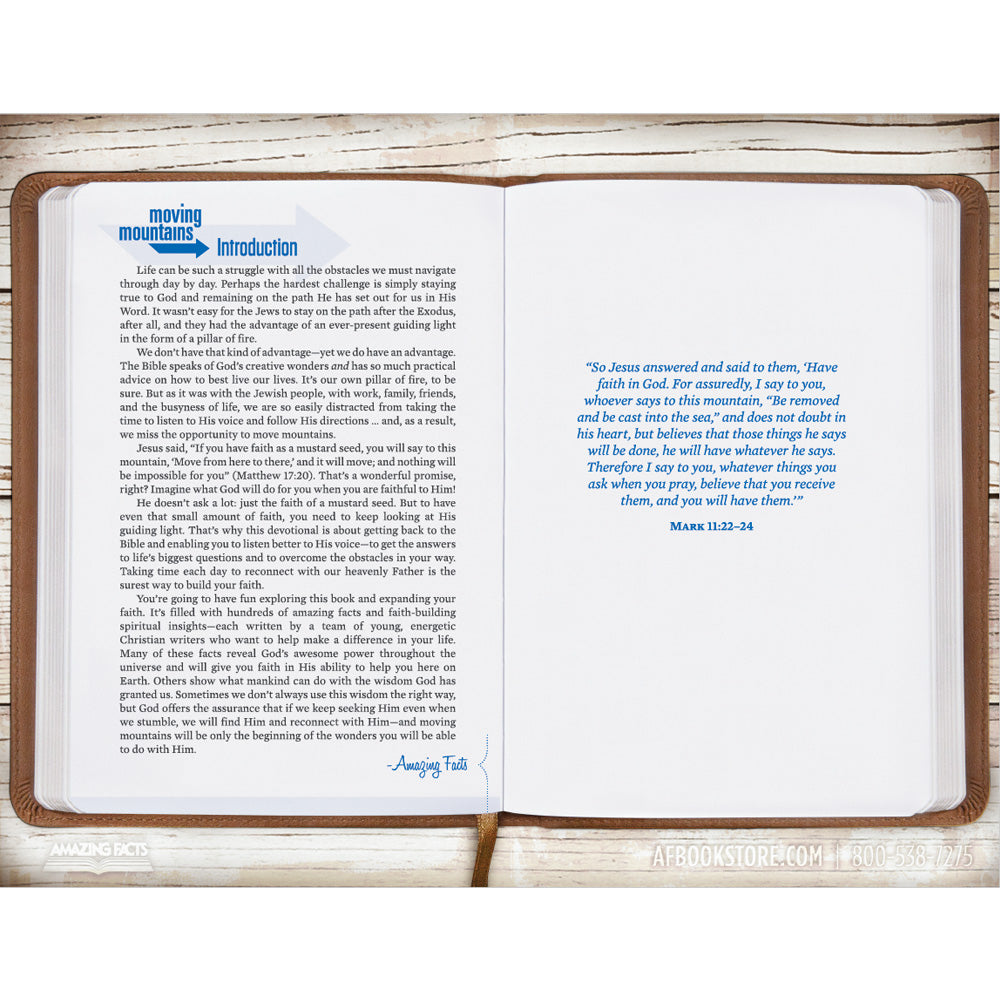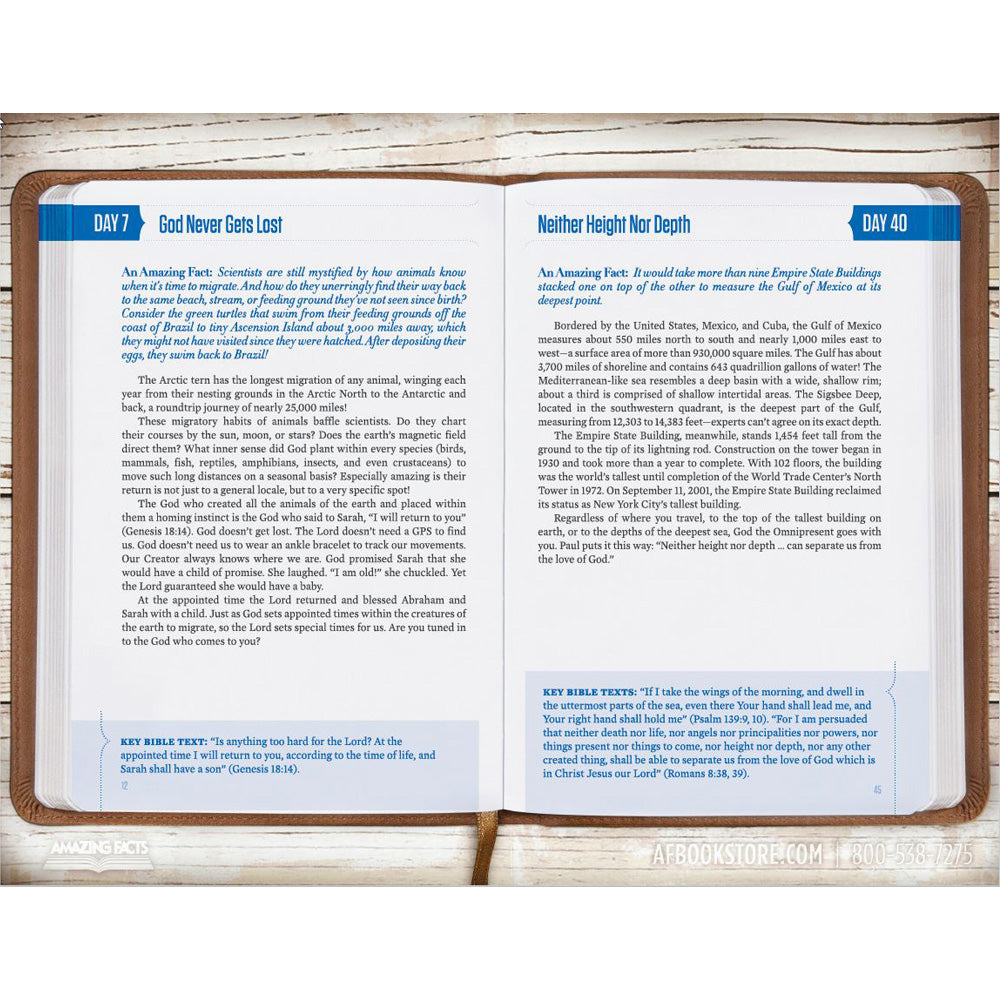 Moving Mountains: A Daily Devotional by Amazing Facts
In stock
Pickup available at 1
Usually ready in 2 hours
Moving Mountains: A Daily Devotional by Amazing Facts
1
Pickup available, usually ready in 2 hours
6615 Sierra College Boulevard
Granite Bay CA 95746
United States
+19164343880
One of the hardest challenges is to stay close to God and follow the guiding path set out
for us in His Word. That's why Amazing Facts released its very first daily devotional.
It's about getting back to the Bible and listening better to His creative, powerful voice
through compelling, fun, and imaginative daily readings.
Moving Mountains is about getting back to the Bible and listening better to God"s voice. It is filled with hundreds of amazing facts about the world in which we live—facts that will engage the reader and provide a fun and practical devotional experience for each day of the year.

Taking time each day in the worship of our Father is the surest way to reconnect with Him, and He offers us the assurance that if we seek Him, we will find Him … and moving mountains will be only the beginning of the wonders we"ll be able to do with Him.

"For truly I say to you, if you have faith like a grain of mustard seed, you will say to this mountain, "Move from here to there," and it will move; and nothing will be impossible for you" (Matthew 17:20).
Customer Reviews
Arcliff L.

United States
07/02/2023
I bought at least 3-4 of these books and they are all given away.
Chona C.

United States
03/09/2023
I love this book
It a great book to read
Chris M.

United States
02/28/2023
Moving Mountains
I absolutely love this Devotional. I like the ribbon to keep track of which day I am on and the stories are great!
Kenneth S.

United States
01/18/2023
Gifts
These books were part of my 3 son's Christmas gifts. I love to share Jesus and thankfully they always are happy for them. And I know they read them. By the way they came really fast in the mail and that was really good. I will be purchasing more later. Thanks for such good service. God bless!
Kathleen C.

United States
12/01/2022
Looks great
While we purchased this devotional for a gift, I did look through & read some pages. It looks wonderful!
Eliana S.

United States
09/05/2022
With Thanks
I recently purchased two daily devotional books one called Moving Mountains and the other a World of Wonder. I purchased them for my adult girls and am so happy how friendly they look, easy to carry, beautifully displayed/covered and an easy interesting read. I thank you for helping me and my family grow spiritually. I have been a supporter of Amazing facts for about 30 years. What a blessing you all are to me and my family.
Elizabeth K.

United States
08/12/2022
Moving Mountains
Based on what I've read, there were no mountain moving experiences.