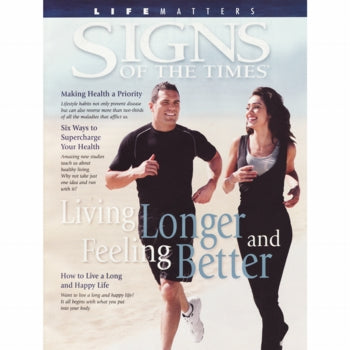 Living Longer and Feeling Better (Signs of the Times) by Pacific Press
This attractive, affordable, full-color magazine presents powerful biblical lessons in a direct and captivating way about health and what living healthy is all about!
Help others (and yourself) live a more productive, peaceful, and joyful life by sharing these wonderful sharing lifestyle magazines.
You can give them away as gifts at your outreach or community health seminars … or just take them door to door with you! Leave Signs of the Times Magazine in medical offices, beauty salons, auto repair waiting areas, fast-food restaurants, bus stops, barbershops … the possibilities are endless!
Content:
Making Health a Priority
Six Ways to Supercharge Your Health
How to Live a Long and Happy Life
Customer Reviews
Write a Review
Ask a Question
I definitely plan to purchase many more!
Who doesn't want to live longer and feel better - people are interested!