Large Print KJV Platinum Remnant Study Bible (Blue Leather)
Large Print KJV Platinum Remnant Study Bible (Blue Leather)
Product Code: BK-PRBUL
Availability:Out of stock
Have a question?
11 FONT SIZE
This extraordinary new LARGE Print Platinum Edition of The Remnant Study Bible has been lovingly designed from the ground up to give you the tools to better understand the Word of God for yourself effectively and to discover His will for your life today.
You may be familiar with the red-letters indicating the words of Jesus in the New Testament, but your Platinum Edition goes even further—throughout the Old Testament, you'll find the spoken words of God in blue, making it fast and easy to discover the Creator's direct message to humanity.

Plus, each Bible book features brand-new "Did You Know?" introductions and full-color illustrations, giving you vital insights that will expand your ability to understand each book in its proper context and enrich your Bible study experience. You'll also love the newly designed Bible book timelines that give new life and perspective to major Bible events.

Whether you're a seasoned Bible student or just beginning to explore the Scriptures as a new believer, the Premium Edition of The Remnant Study Bible will give you something new and refreshing—resources that will bring the Bible to life like never before and to help you become a better witness in these last days.

New Features


Old Testament words of God in blue letter.
Full-color images for each introduction brings the Bible to life.
New book introductions with "Did you know?" Info Nuggets.
Timelines with visual thumbnails for each book.
Top-grain leather cover.
Trim size is 8 X 11.2 IN.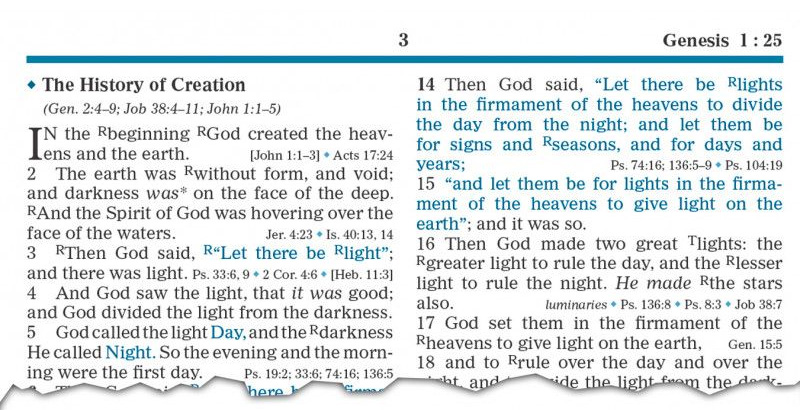 Plus All Our Classic Features


Complete King James Version with in-text comments by E. G. White.
20 topical studies chained throughout the Bible with index to chains.
New Testament words of Jesus Christ in red.
Thousands of helpful end-of-verse scripture cross-references and notes.
Introduction and overview to each book of the Bible.
Additional helps section featuring Bible timeline, furniture and cleansing of the Sanctuary, and prophetic symbols.
How to use section, brief biography of Ellen G. White, Bible symbols and their meanings, parables and miracles of Jesus Christ, read your Bible through in a year guide, how sin began, and more.
Extensive KJV concordance, 8-page section of color maps, 2 ribbon markers, 1/2" margins and pages for personal notes.
Customer Reviews
Write a Review
Ask a Question
04/03/2020
Jenn

United States
Overall, one of the best study bibles to own.
I ordered this new platinum edition in blue as a gift for my husband. I am always nervous about buying a bible without holding and perusing through it first. But I am very pleased with this bible. I am using it as much as my husband. The words of God in blue in the OT and red in the NT are spoiling me. This feature should be in more bibles! My husband also has an Andrew's NKJV Study bible in premium black leather, and a Prophecy NKJV study bible. The bindary seems solid although it is not Smyth sewn, it does lay flat and easily drapes. The heft is nice but not overwhelming. Duo color ribbons are pleasing. The back of this bible has fantastic study helps. Content is an 'A'. With this said, I do wish it had some higher quality features: -brighter whiter paper (38 GSM preferred) with line matching so it does not ghost as much with the lovely color pictures - more white space for notes on each page for notes. The margins could easily increase by 1/2" without being too impracticle to carry. - premium leather (like the Andrew's NKJV study bible). This leather is disappointing for the price. -continuity of page paper. Study helps in the rear are of both thin bible paper and heavier paper. -richer red and blue text. It's good color but it could be richer and bolder which would help the reader who strains to see this red on the ivory paper. -color art building ( light blue under silver for blue leather) So I suggest making this in a wide margin premium leather version with 38GSM bright white paper. I have owned a Cambridge Concord wide margin KJV in black goat (lost in a house fire) . For me, I need three bibles. 1. A personal size carry (about 7.5" x 4"). If you are looking I recommend Cambridge KJV Personal concord in Moroccan leather with thumb index. 2. A wide margin for notes like the Cambridge or Schuyler (evangelicalbible.com) and 3. A study bible with all the helps. I have been hunting for my favorite all in one bible for a long time. My hunt continues and in the meantime I will enjoy swiping this copy of the platinum Remnant study bible from my hubby.
09/02/2020
April C.

United States
07/02/2020
Ioana N.

Canada
KJV Platinum Remnant Study Bible ( Blue Leather)
It is a great bible and excellent in everything in my view. References are easy to follow. Everyone should invest in this KJV no doubt . God bless you for the wonderful work you have done. 100% platinum Remnant Study Bible for sure.