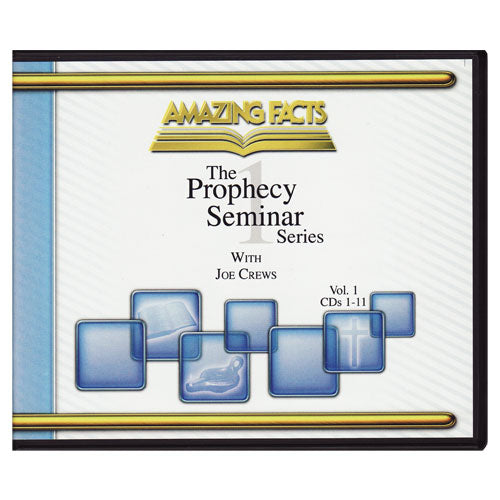 Joe Crews Prophecy Seminar CD Set (22 CDs) by Joe Crews
In stock
Pickup available at 1
Usually ready in 2 hours
Joe Crews Prophecy Seminar CD Set (22 CDs) by Joe Crews
1
Pickup available, usually ready in 2 hours
6615 Sierra College Boulevard
Granite Bay CA 95746
United States
+19164343880
The Amazing Facts founder, Joe Crews, delivers powerful teachings in his classic straightforward style. Prophecy Seminar CD Set.
(22 CDs)
Sermon Titles:
Time Running Out
Man from Space
The Beast of Revelation 13
The Beast, the Dragon, and the Woman
Three Steps to Heaven
When Protestantism Follows the Beast
God's Test of Loyalty
Mark of the Beast
The Missing Text
Is Baptism Necessary?
When Sunday Came Three Days Late
After Death... Then What?
What and Where is Hell?
The Great Judgment Day
Coming -- World Black-Out!
How to Postpone Your Funeral
The Point of No Return
The Scarlet Woman
Modern Prophets
Remember Lot's Wife
The Last Night on Earth
Your Questions Answered
Customer Reviews
Jade B.

Canada
03/01/2023
From 1982
So far with the interferance to prevent rebroadcast,listened to disc one,than your bible questions answered,and skipped to the last night on earth.What a blessing!Been sharing them one cd at a time,and so far all have been returned.Decisions made for Christ those recpients have been making!
05/12/2013
Best CD Collection available
There is none better that the late Joe Crews. This cd collection tells everyone what they need to know to make it through the last days.