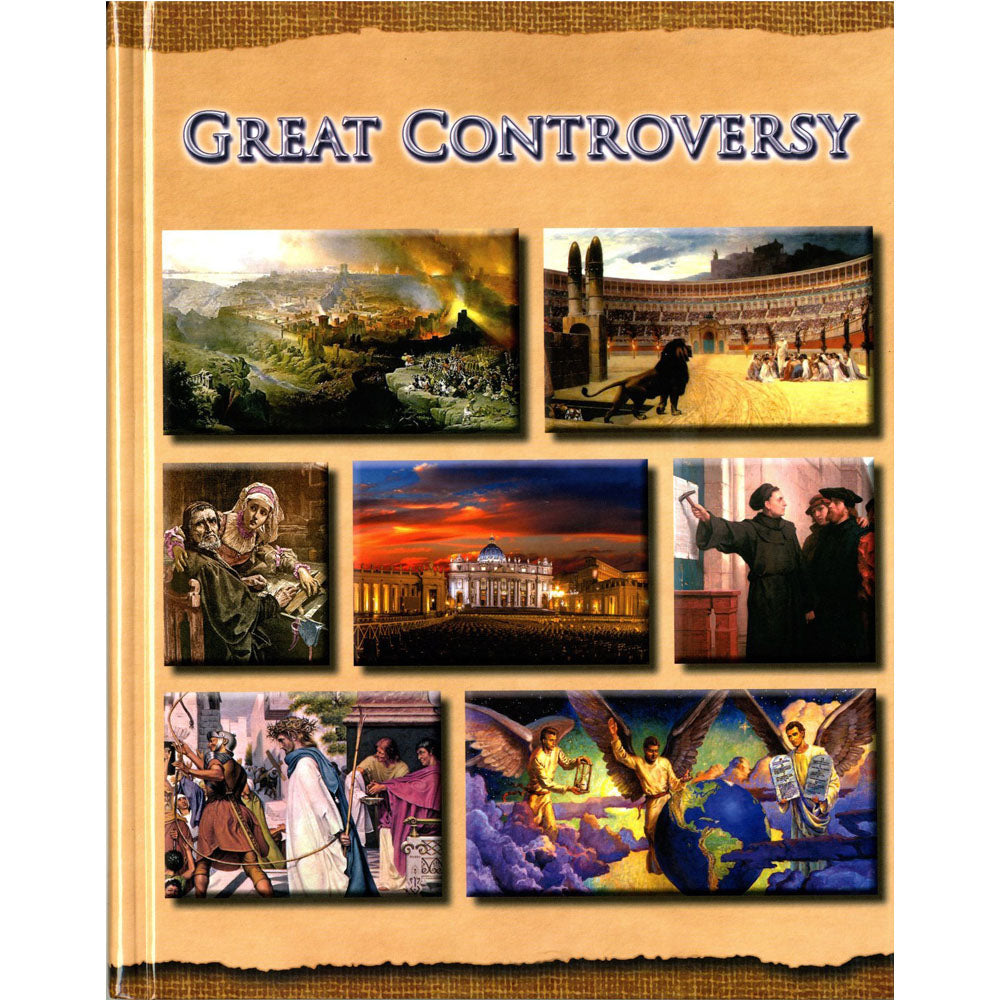 Illustrated Great Controversy Large Print (Hardcover) by Harvestime Books
Large print (11 pt.) and full-color!
The beloved masterpiece The Great Controversy is the fifth and final volume of the epic five-part series Conflict of the Ages, which uncovers the cosmic battle between good and evil played out on Planet Earth. This 576-page, easy-to-read, large-print volume traces the historic conflict between God and Satan beginning with the fall of Jerusalem after the time of Christ, through the persecution of Christians in the Roman Empire, the apostasy of the Dark Ages, the light of the Reformation, the last days before Christ comes, and finally to the end of sin when the earth is made new.
A powerful, timeless classic that will deepen your understanding of the Bible and prophecy in profound and unexpected ways, preparing your heart for the final events to come and growing your trust in God and His Word.
This 8-1/2 x 11, large-print hardback edition is packed with full-color pictures, 47 maps, 5 appendixes, 3 indexes, charts, and a simplified edition of Steps to Christ. An incredible value in your spiritual growth!
Customer Reviews
Christina S.

United States
07/05/2023
Beautiful book! Has large print so I don't get a headache while reading it, plus beautiful pictures and interesting side notes! I am totally pleased with my purchase. I think it should be a must have for every Adventist home!
Rebecca H.

United States
06/05/2023
One of the best books ever written
I grew up with the original edition of this book. Seeing it now with color illustrations and in bigger print (great for my older eyes) has been awesome. I am enjoying it very much. Highly recommend.
Michele G.

United States
06/01/2023
One is not enough
I purchased two as gifts to family and a friend who loves history!
Olga D.

United States
05/02/2023
Great Controversy
Great book, great pictures. Excellent message and explanation
Jeff S.

United States
02/28/2023
Review of Book
It is a very great source on church history.
Mark K.

United States
02/28/2023
The Great Controversy
A great tool to use the books for witnessing with other people
Rhonda B.

United States
01/18/2023
Holds Your Attention!
This is a fabulous version of the Great Controversy with the beautiful pictures that so clearly demonstrate the text. It really holds your attention!