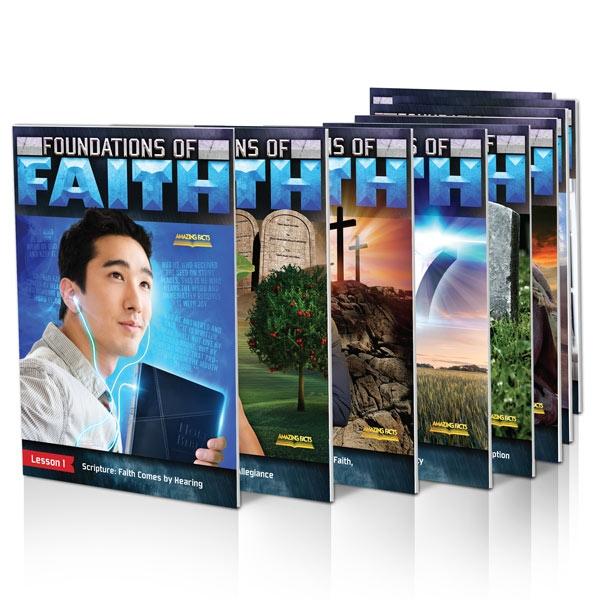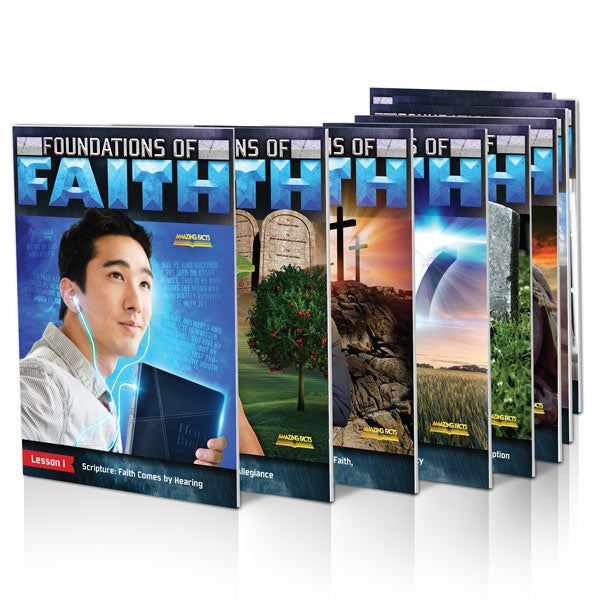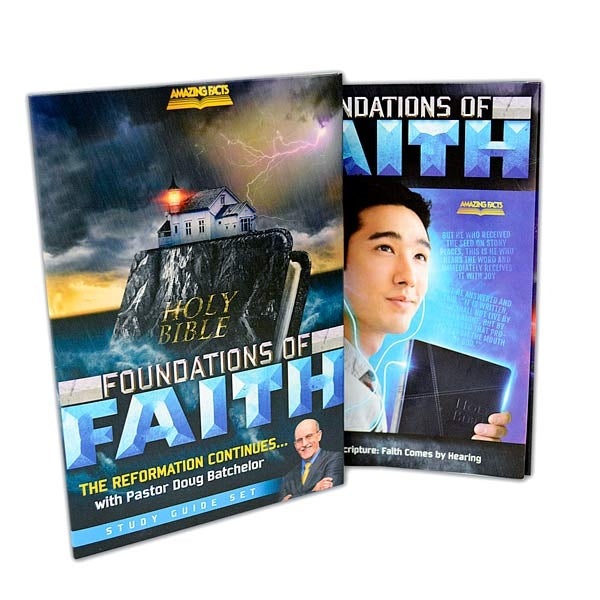 Foundations of Faith Bible Lessons in Envelope by Amazing Facts
In stock
Pickup available at 1
Usually ready in 2 hours
Foundations of Faith Bible Lessons in Envelope by Amazing Facts
1
Pickup available, usually ready in 2 hours
6615 Sierra College Boulevard
Granite Bay CA 95746
United States
+19164343880
Other options for this product:
Now, more than ever, the devil is seeking to undermine the bedrock foundations of Christianity. The result has been a virtual flood of error that has been eroding the fundamental teachings of God's Word in our churches and culture at large—everything from the inspiration of Scripture to the story of Creation and the role of the traditional family.
The Foundations of Faith Bible Lessons will further deepen your faith in God's Word and strengthen your spiritual life. The question-and-answer format will lead you even deeper into the Scriptures and provide a richer understanding of the bedrock teachings of the Bible.
Each lesson is designed to strengthen your faith with an in-depth but fast-paced examination of biblical teachings now under assault by culture—such as the Second Coming, Sabbath, God's law and grace, the keys to salvation, and so much more.
9 Lessons in envelope:
Scripture: Faith Comes by Hearing
Sin: Choosing Our Allegiance
Salvation: Saved by Faith, Living by Faith
Sabbath: A Sign of Loyalty
State of the Dead: A Grave Deception
Spirit of Prophecy: Protected by the Prophets
Sanctuary and the Remnant: Two Women and One Church
Strength: Health and Holiness
Second Coming: A Shout, a Trumpet, and an Earthquake
Customer Reviews
Versa D.

United States
06/01/2023
Foundations of Faith
I found this bible lesson to be very informative and educational.
Elaine W.

United States
03/03/2023
Foundations of Faith
Excellent. I am using them with an older gentleman that has Parkinson's Disease and has great difficulty writing because his hand shakes.
Zella L.

United States
07/02/2022
Always Excellence
Always a smooth transaction and always excellent product. In todays day these products are so needed not just miles away but out your own back door. God is moving in big ways. Thank you for providing such great biblical insight to those in need.
Josue R.

United States
03/03/2022
Complete confidence
I bought it for someone in prison. And as always your lessons are great. I can count on your faithfulness to the word of God. I recommend amazing facts to anyone.
Marie B.

United States
11/02/2021
Perfect for beginners
These mini Bible Studies are perfect for folks who don't know Jesus or just know of Jesus. They are easy to understand and not too lengthy to read. I am sure I will be ordering more of them. God Bless all of you at Amazing Facts.
Sharon J.

United States
06/03/2020
Excellent Study Lessons
Excellent study lessons. Very informative and beautiful, lively pictures. These study lessons surely help me in my daily personal devotions, and to seek the Power of God's Word and Prayer of Faith. These lessons are truly a great help, and provides more detailed study in God's Word. Thank you so much and God Bless!