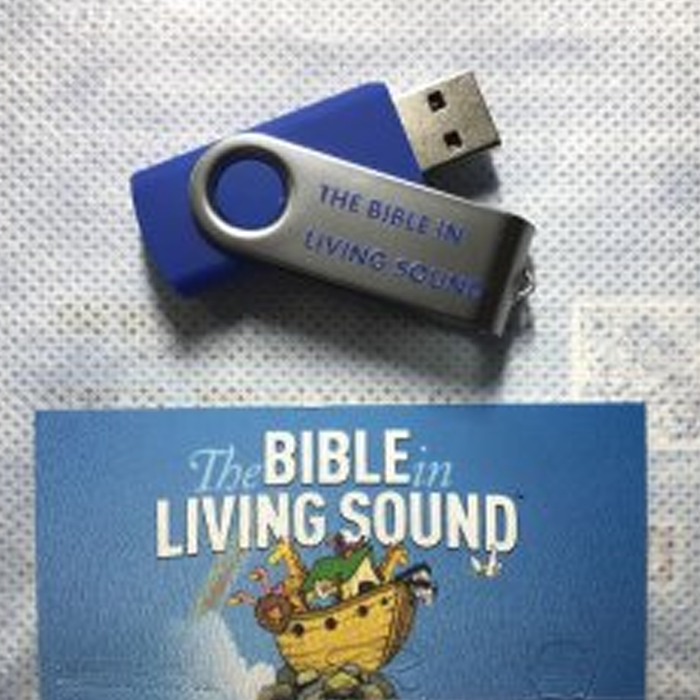 The Bible in Living Sound - 450 Stories - MP3 files on USB
Get all the stories on USB!
Complete set of dramatized audio Bible stories on a USB drive in MP3 files!
Get all of the Bible stories! This complete set contains all 450 dramatized audio Bible stories of THE BIBLE IN LIVING SOUND! 56 hours on one USB drive!
Purchase the stories in

 

MP3

 

format, stored on a USB drive. All 450 audio Bible stories on one USB (3.6 GB of files). Load the stories onto your MP3 player using iTunes or another media manager or play them on your computer or in your car.
These are audio files stored on one USB flash drive with type A (old style) plug.
These are audio Bible stories; not video.
Learn lessons from scripture while enjoying these exciting and entertaining audio Bible stories. Our listeners say that they and their children love to listen to these stories again and again! Stories for all ages! This series includes the entire Bible: stories of the Old Testament, stories of the life and times of Jesus, and stories of Paul and the Apostles.
These audio Bible stories are like a radio play, with background music, sound effects and professional actors' voices.
"THE BIBLE IN LIVING SOUND has been tremendously enjoyed by our children. We have found that the retention of Bible facts has been the highest through this means than in any other religious exposure."
THE BIBLE IN LIVING SOUND's audio dramatizations are reenacted events in the Bible that captivate listeners of all ages as they visualize and learn the values taught in God's Word! Listen to the Bible ... in living sound!