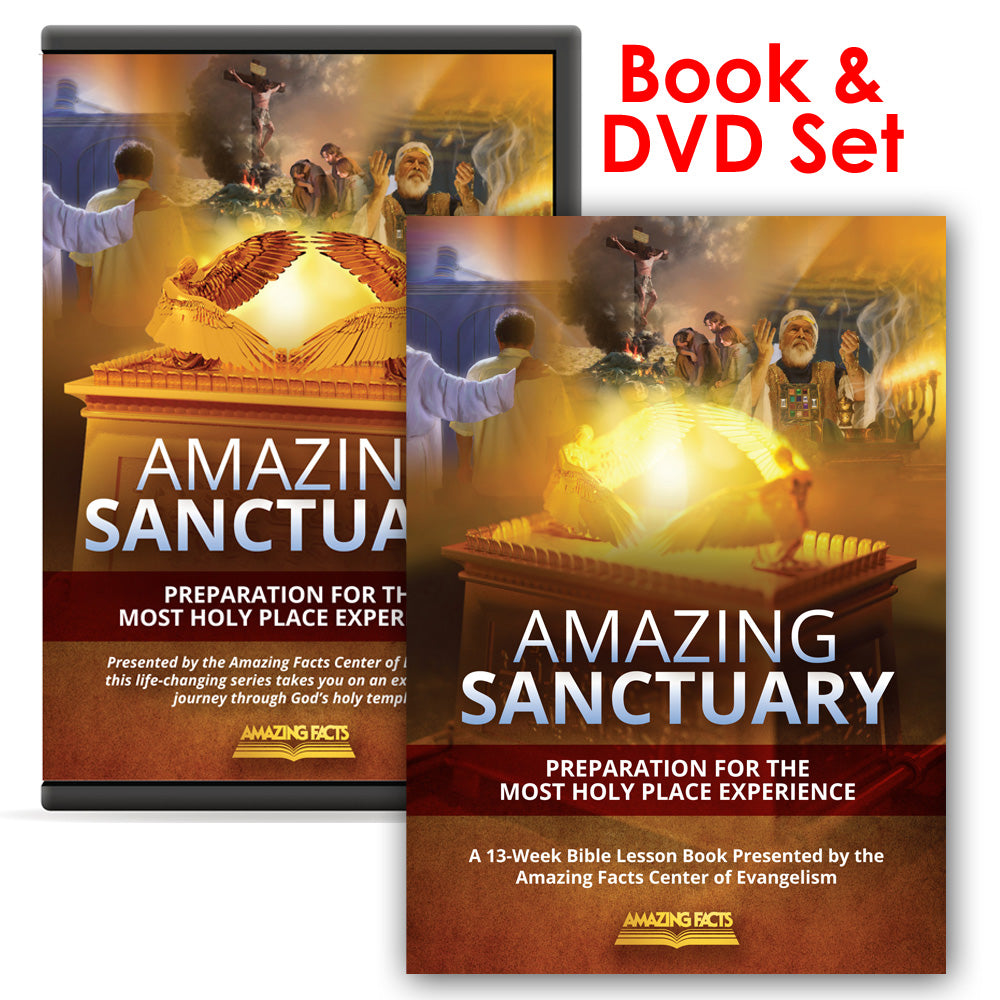 Amazing Sanctuary DVD & Book Set by Amazing Facts
In stock
Pickup available at 1
Usually ready in 2 hours
Amazing Sanctuary DVD & Book Set by Amazing Facts
1
Pickup available, usually ready in 2 hours
6615 Sierra College Boulevard
Granite Bay CA 95746
United States
+19164343880
DVD and BOOK SET!
About the DVD:
Amazing Sanctuary: Preparation for the Most Holy Place Experience is a riveting and informative 13-part series that explains the overall purpose and the intricate symbols of an ancient temple that's been largely forgotten by Christians—but which still has powerful, timely secrets to reveal to us today.
Presented by speakers from Amazing Facts International, Weimar Institute, and Secrets Unsealed, you'll love this fascinating study of the Jewish tabernacle, which will help you to better understand God's staggering plan of salvation.

1. The Sanctuary Worldview
2. Salvation in the Sanctuary
3. For Glory and Beauty
4. The Sanctuary and Daniel's Prophecies
5. Thy House Is Left Desolate!
6. God's Sanctuary and Your Health
7. The Ultimate Sanctuary
8. What on Earth Happened in 1844?
9. Sighing and Crying in Jerusalem
10. The Revival of the Beast
11. God's Final Message of Love
12. Why Are We Still Here?
13. Sanctuary Waymarks in Revelation
14. Panel Q&A
Runtime: Approx. 14 hours.
About the book: 
Created by the Amazing Facts Center of Evangelism (AFCOE), Amazing Sanctuary is an inspiring and thought-provoking 13-week lesson series that guides you on an extraordinary journey through God's holy temple.

Each week-long lesson features an in-depth Bible study, Scripture to memorize, reflection and group discussion questions, and more. These deep and personal lessons make it a perfect resource for personal devotions, Sabbath School, or your small group.

"As you discover God's amazing tabernacle that spans from Genesis to Revelation, it is my prayer that you will meet anew your heavenly High Priest, Jesus Christ, who 'always lives to make intercession' for you." —Pastor Doug Batchelor, president Amazing Facts International

Learn how the sanctuary is more than just a religious edifice—and watch the plan of salvation come alive in the pages of Scripture!

Complements the Amazing Doctrines online AFCOE program.
Visit afcoe.org to learn more.
Customer Reviews
Debbie G.

United States
07/02/2022
Amazing Sanctuary
We aren't finished yet