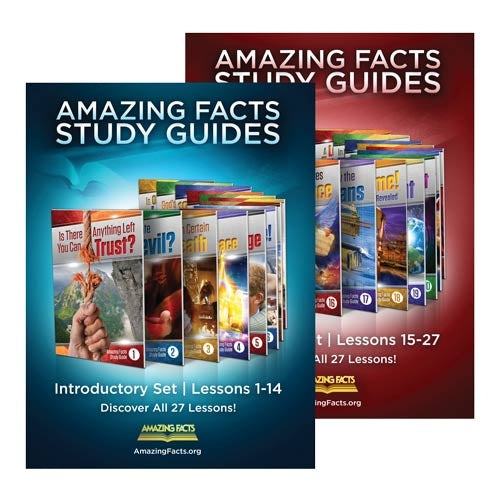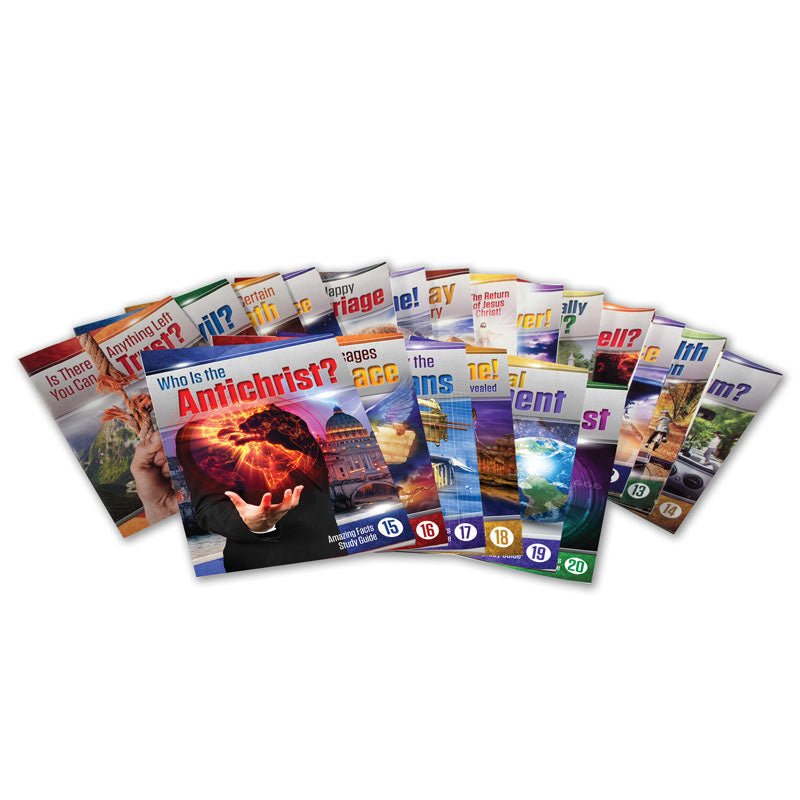 Amazing Facts Study Guides Advanced Set (15-27) by Bill May
In stock
Pickup available at 1
Usually ready in 2 hours
Amazing Facts Study Guides Advanced Set (15-27) by Bill May
1
Pickup available, usually ready in 2 hours
6615 Sierra College Boulevard
Granite Bay CA 95746
United States
+19164343880
Other options for this product:
Our bestselling Bible lessons have already helped tens of thousands around the world discover the many vital, inspiring truths of the Bible—and now it's your turn! You're going to love the colorful, eye-catching graphics, amazing facts, and the easy-to-understand, step-by-step learning that will help you better grasp the Bible's most vital teachings clearly and completely.
Excellent for personal study or with a group, these winsome, uplifting lessons will bring you and those you share them with faith, hope, and clarity.
Conveniently packaged in beautiful, full-color envelopes.
Advanced Lessons
Study Guide 15: Who Is the Antichrist?
Study Guide 16: Angel Messages from Space
Study Guide 17: God Drew the Plans
Study Guide 18: Right on Time!
Study Guide 19: The Final Judgment
Study Guide 20: The Mark of the Beast
Study Guide 21: The United States in Bible Prophecy
Study Guide 22: The "Other" Woman
Study Guide 23: The Bride of Christ
Study Guide 24: Does God Inspire Astrologists and Psychics?
Study Guide 25: In God We Trust?
Study Guide 26: A Love that Transforms
Study Guide 27: No Turning Back
Customer Reviews
Rhonda H.

United States
05/02/2023
A great source of truth
I bought them before and loved them. Bought 2 more sets to give to my daughters families
Nova M.

United States
03/02/2023
Finally I got these study guides. Thank you
Thank you. I used to drop these lessons to the neighbors around our church so many years ago .
Tom A.

United States
12/01/2022
Awesome Material
I've purchased these items previously and use them to pass out to others when led by the Lord. I have found the studies very effective in my life and that of others...
Leonard B.

United States
09/05/2022
Study guides
Gave study guides to a co worker . Hoping he will find a closer walk with the Lord
Marilyn F.

United States
06/03/2022
Grateful
Excellent. I learned a lot from studying the lessons.
Marjorie P.

United States
05/03/2022
Amazing Facts Study guide
Easy to use, very informative
Laurie R.

United States
04/03/2022
Study guides
I bought them for a friend but she still has not started them. But when I bought mine a while ago I loved doing them and learning more of what God wants me to know.