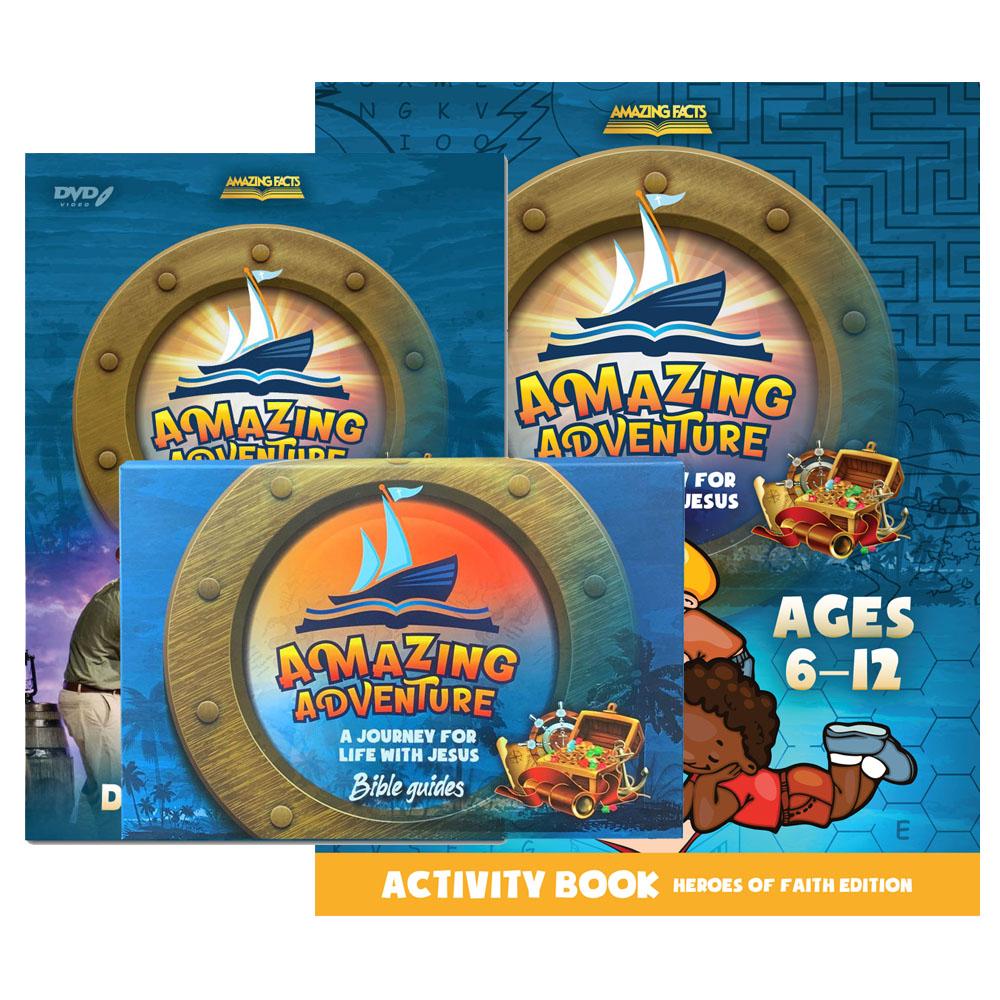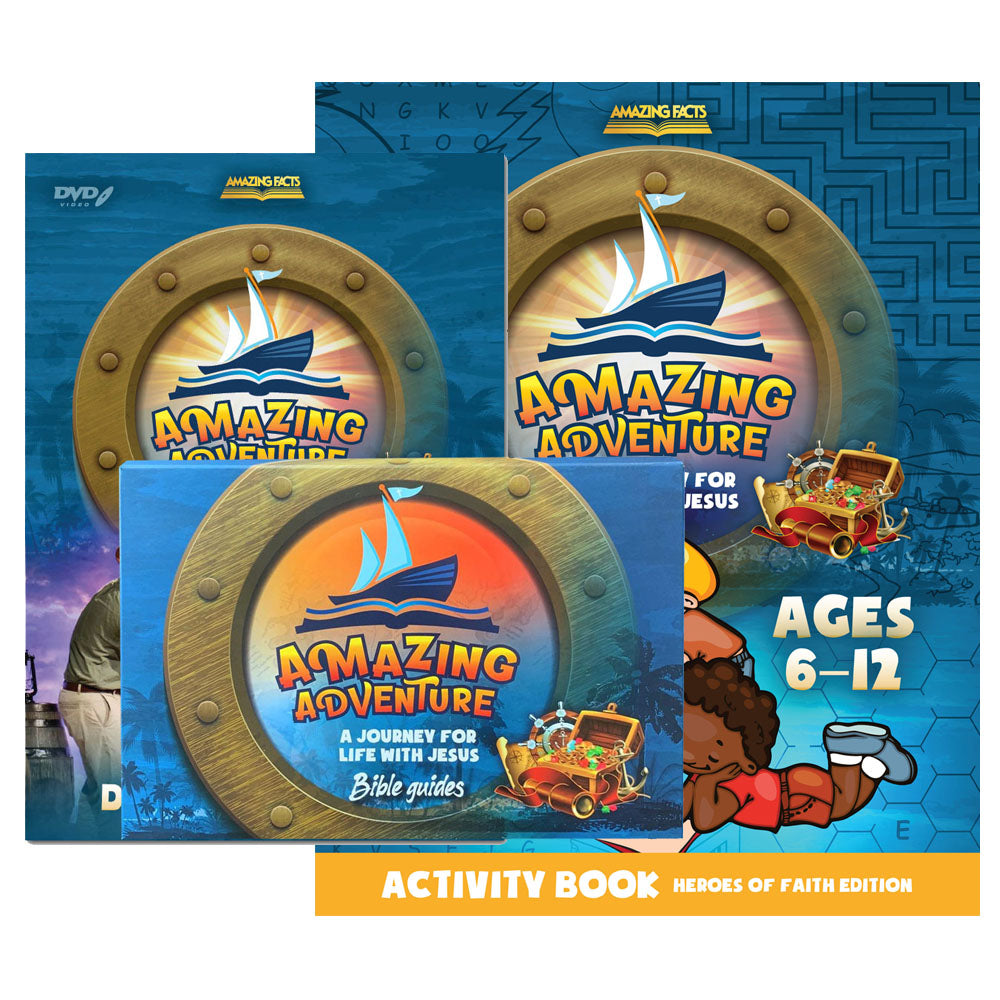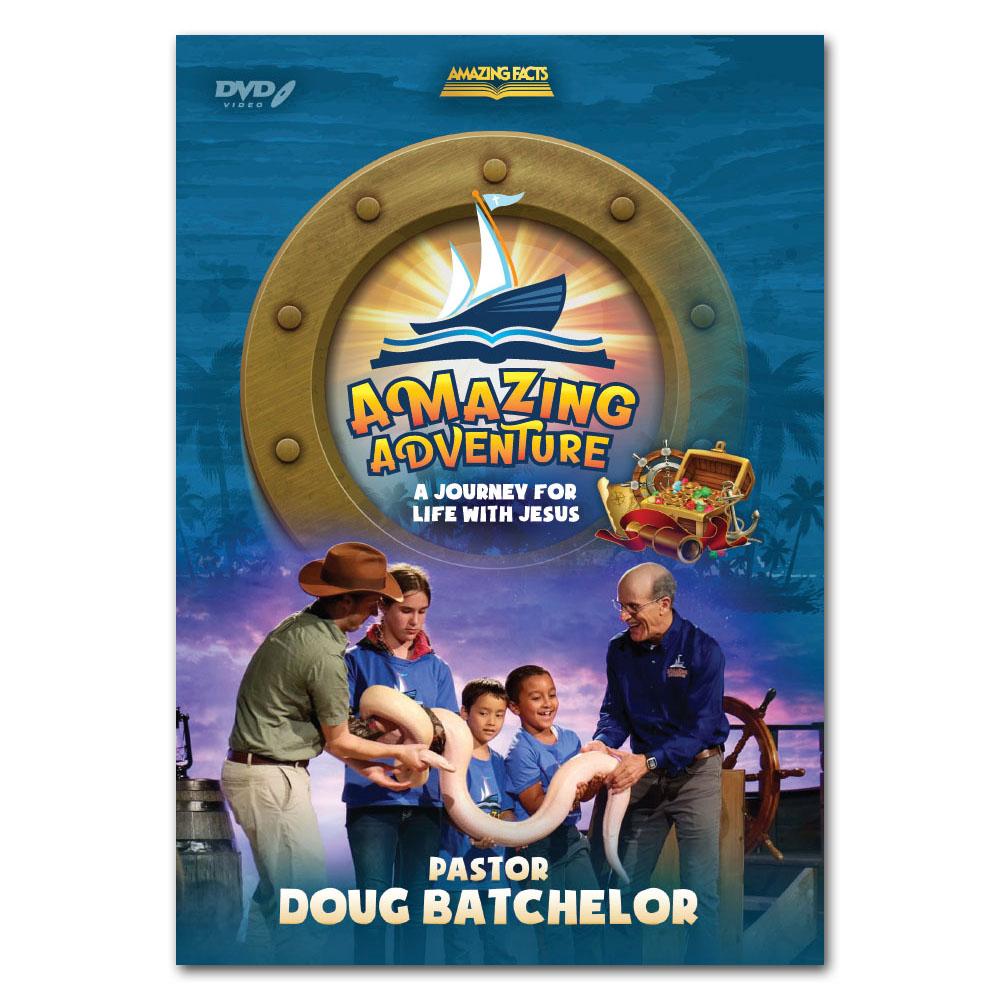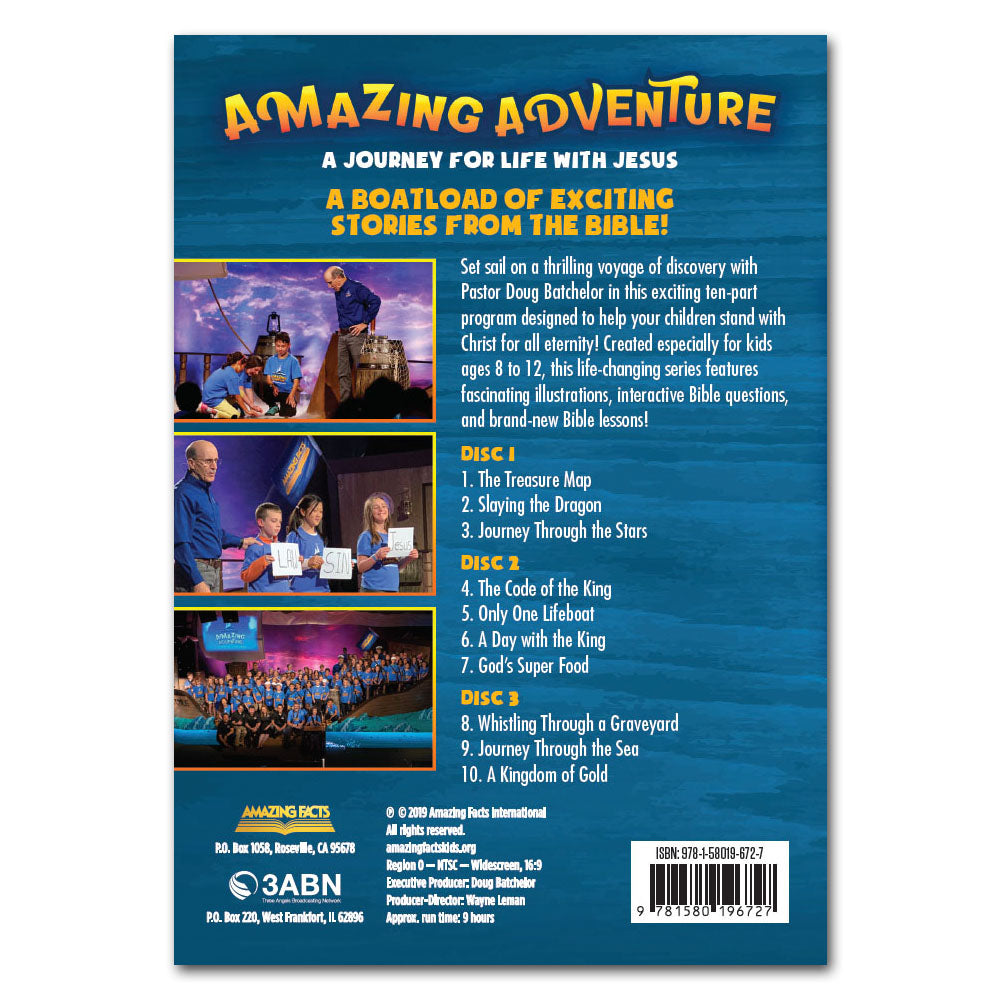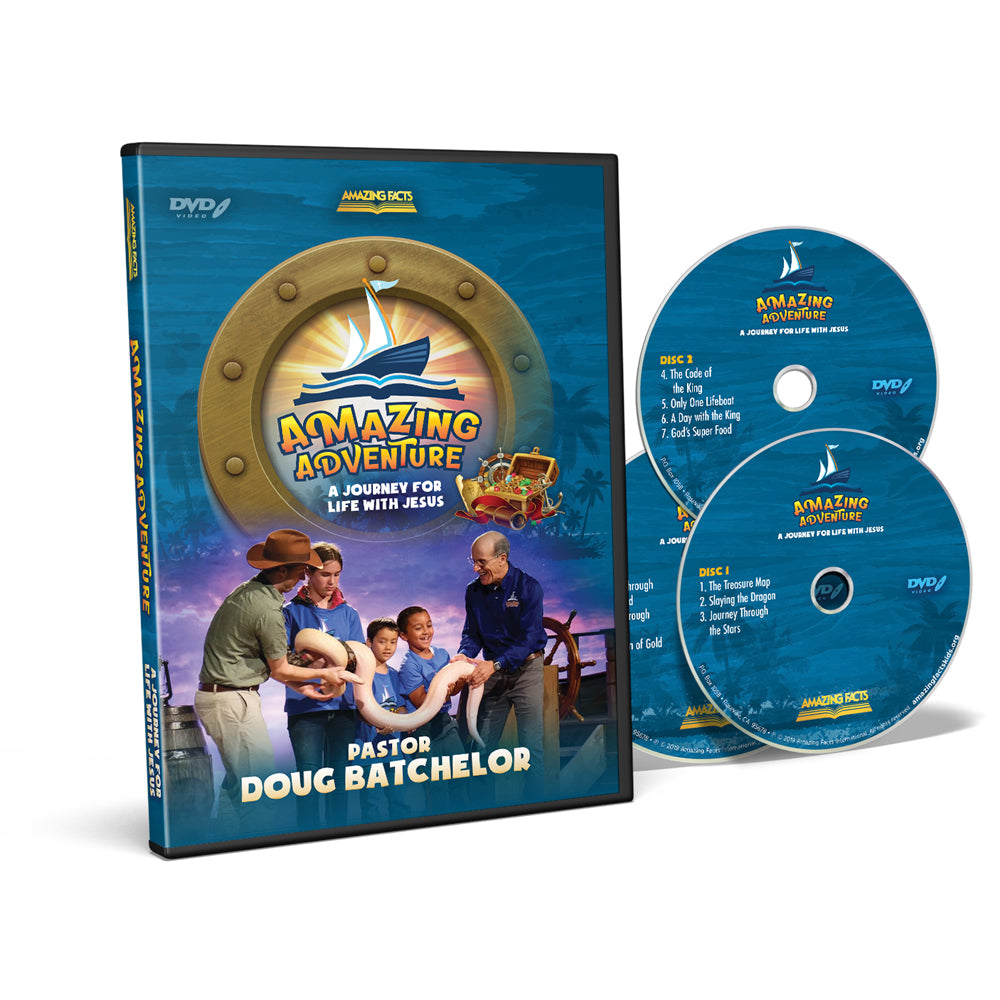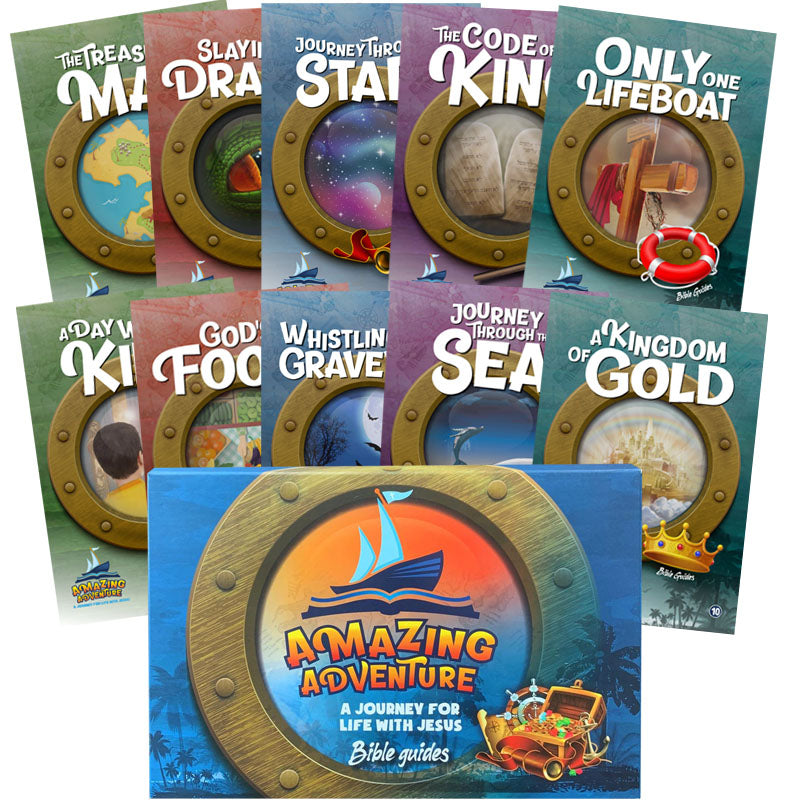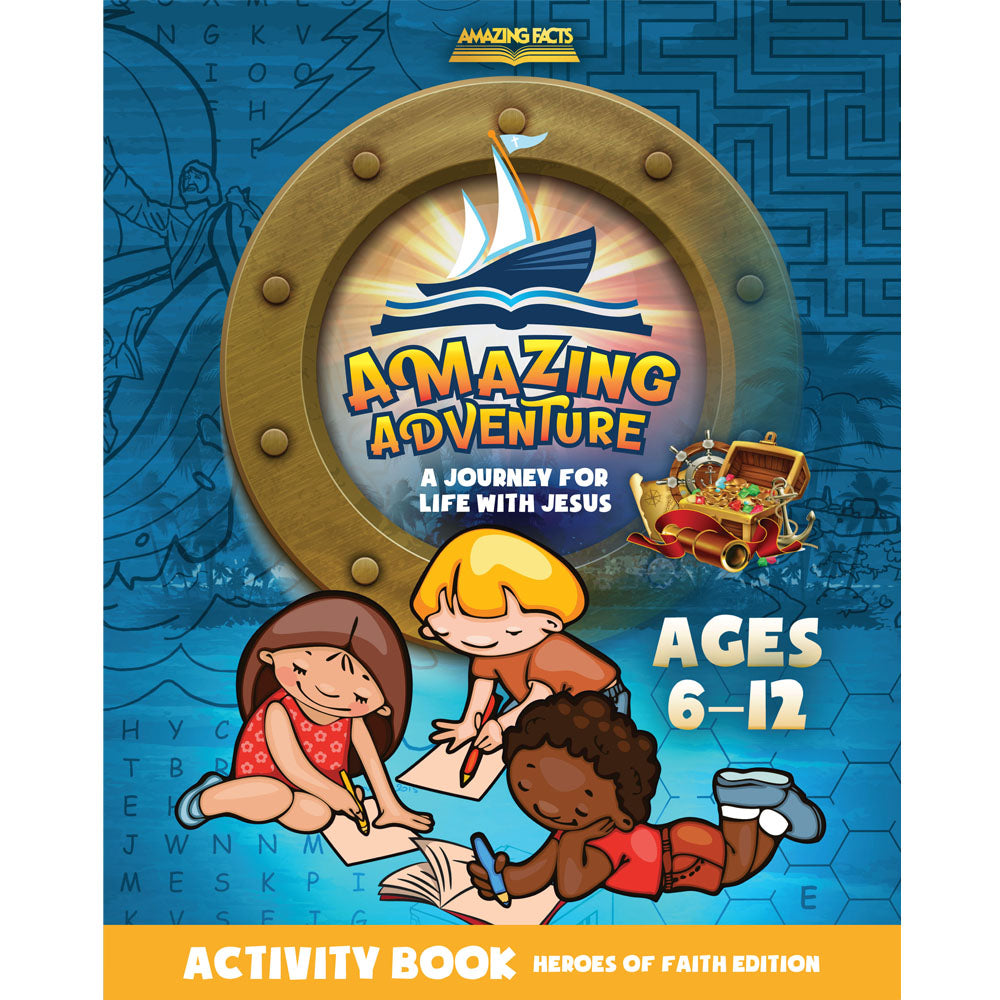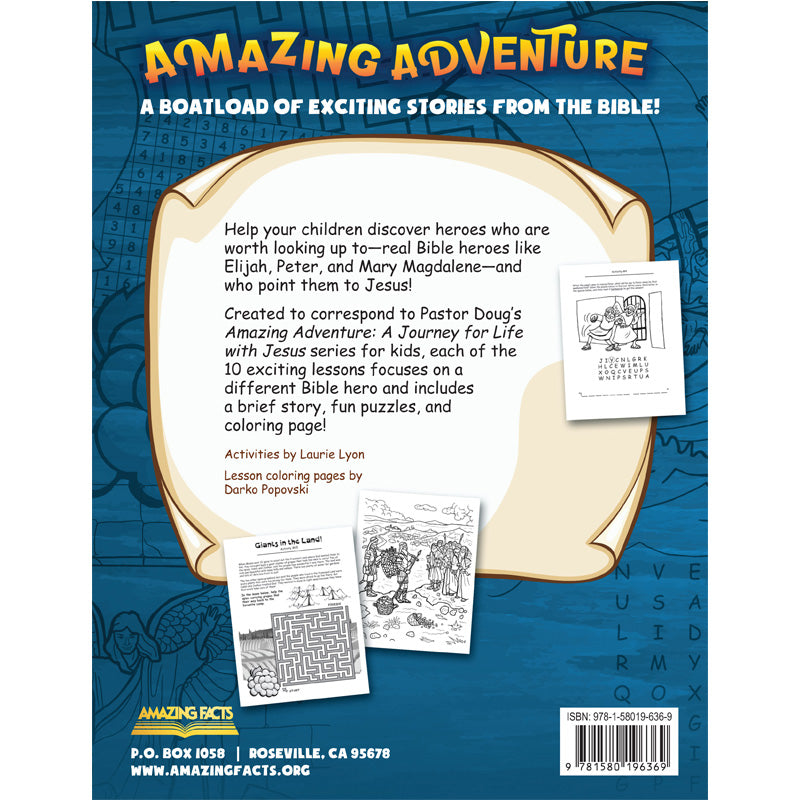 Amazing Adventure DVD, Study Guide & Activity Book Set by Doug Batchelor
Other options for this product:
DVD, Study Guide AND Activity Book Set!
A boatload of exciting stories from the Bible!

Set sail on a thrilling voyage of discovery with Pastor Doug Batchelor in this exciting ten-part program designed to help your children stand with Christ for all eternity!
Created especially for kids ages 8 to 12, this life-changing series features fascinating illustrations, interactive Bible questions, and brand-new Bible lessons.
Disc 1
1. The Treasure Map
2. Slaying the Dragon
3. Journey Through the Stars

Disc 2 
4. The Code of the King
5 Only One Lifeboat
6. A Day with the King
7. God's Super Food

Disc 3
8. Whistling Through a Graveyard
9. Journey Through the Sea
10. A Kingdom of Gold
No subtitles available.
English only. 
BRAND NEW & REDESIGNED STUDY GUIDES!
Designed for kids ages 8 to 12, our colorful, fun, and thoroughly educational Amazing Adventure Bible lessons give parents, pastors, teachers, and youth leaders a wonderful tool to reach any child with the good news — 10 guides in total!

Filled with pictures, puzzles, and Bible stories, each Bible Guide will lead your kids through an incredible journey that will teach them more about the Bible, prophecy, and important doctrines like heaven, hell, the state of the dead, and more, in ways that make sense to them!

Use these guides for …
home study
a week of prayer in your Christian school
vacation Bible school evangelism
Sabbath school for juniors
home school evangelism
neighborhood evangelism
the possibilities are limitless!
More than 160 interactive pages of fun learning about the Bible!
SOLD IN SET ONLY 
Customer Reviews
Angelia M.

United States
04/02/2023
Amazing Adventure DVD,study guides & activity book
I gave one set to my sister for her 8 year old grandson and she told me he liked them 'because he watched them and did the activity books without complaining'.
Teresa W.

United States
10/12/2022
My kids love it!
This was a gift to my postmasters children whose church did not have studies for the kids. "The kids love it!" Was her response when I visited the post office a week after giving her the package. Thanks for such great witnessing material!
Carmen D.

United States
05/03/2022
Great
Appreciate the support it provides
Danielle U.

United States
01/10/2021
A great resource for children
For kids not really growing up knowing anything about Christianity, this resource really struck positively with them. A great way to outreach to youth. Thank you Pastor D
Kathy C.

United States
07/04/2020
I bought them for my grandchildren
I understand from their mother that they are enjoying them.
Cherie S.

United States
07/02/2020
Just not for my kids age. They are to young. 1st, 2nd and kindergarten
Shelley Z.

Saudi Arabia
04/08/2020
Very well done!
I purchased this series for my niece and nephews and they are really enjoying the series. Because of the Corona virus and church being closed, they are using this series for church and look forward to it every week. Thank you for putting this series together.