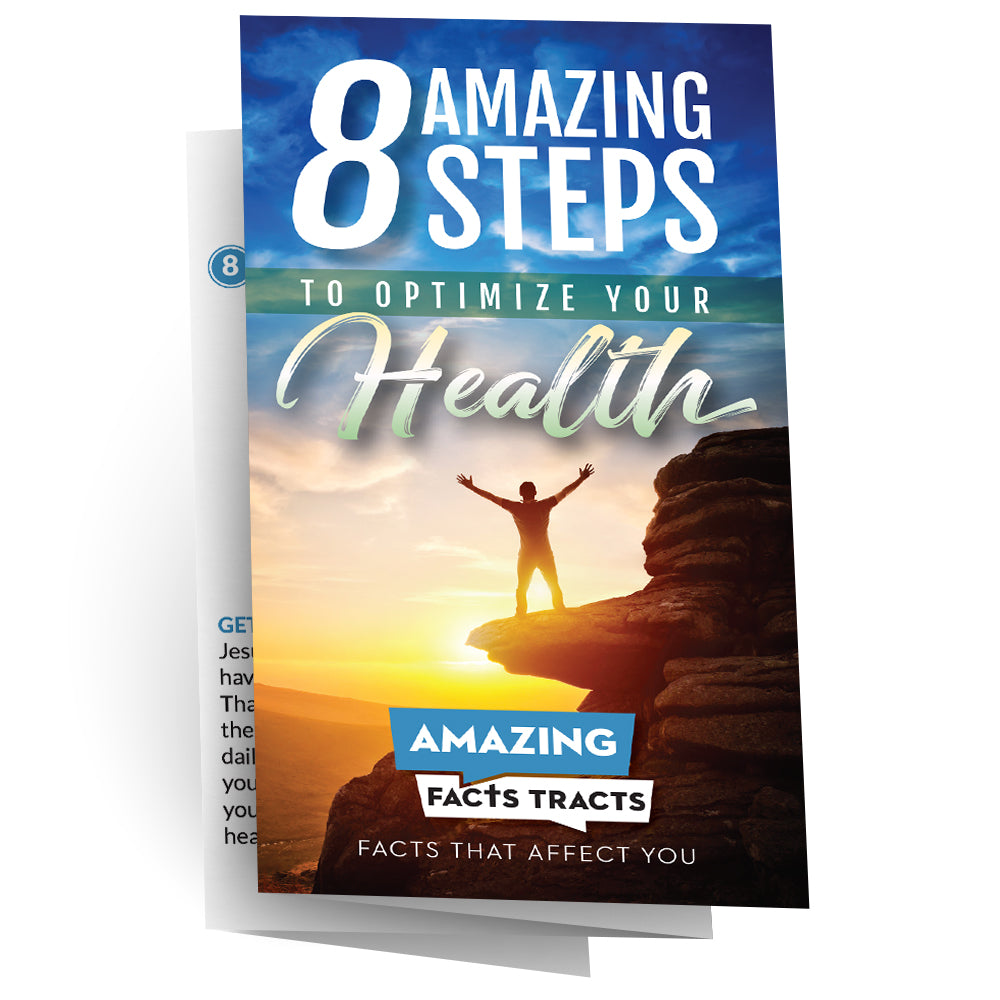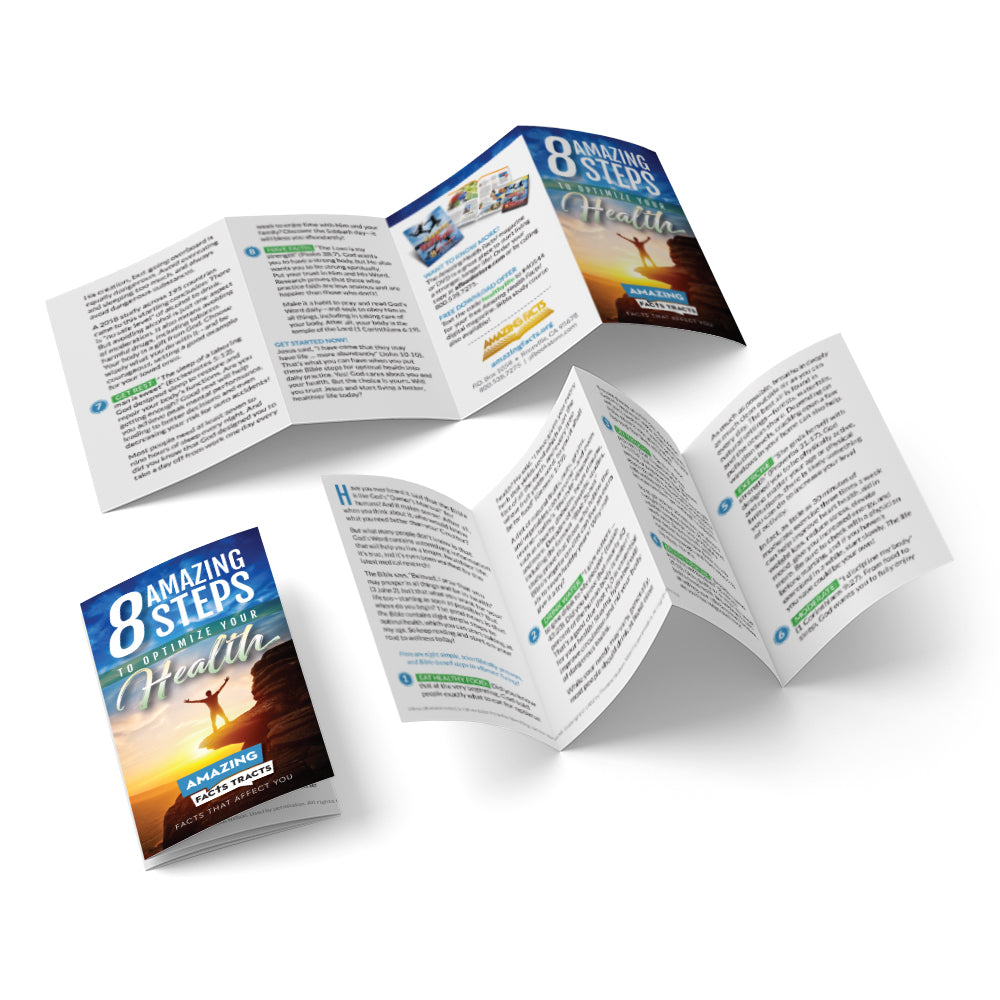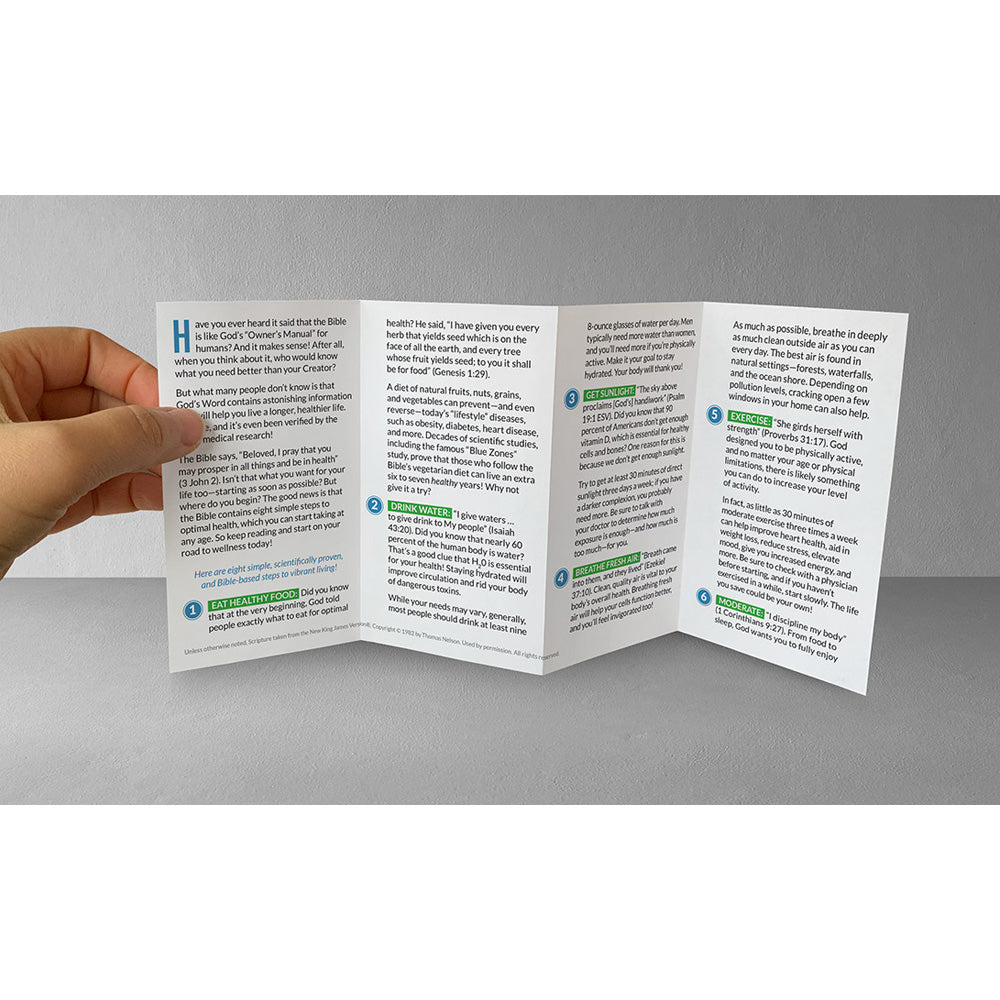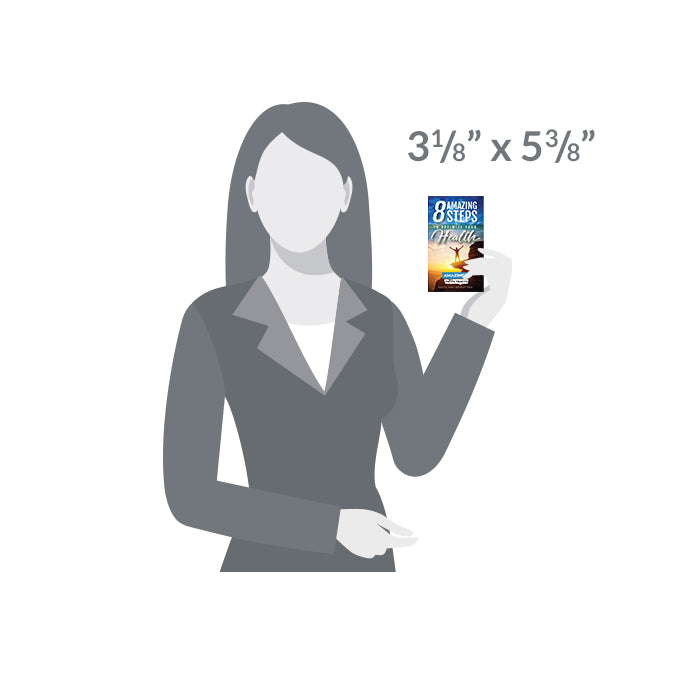 AFacts Tracts (100/pack): 8 Amazing Steps to Optimize Your Health by Amazing Facts
BRAND NEW Amazing Facts Tracts! 
(Topic: Health)

Easy-to-share leaflets on popular Bible topics!
Packets of 100 for only $9.95.
Amazing Facts Tracts stand out from the crowd.
Larger size to grab attention (but still fits in your pocket)
Free link to a magazine, book, or video download
Easy to read type
Covers key Bible teachings
Connects to free Bible study guides
Use with evangelism tracking database
Nurture leads with follow-up emails on the tract topic
Equip yourself, your members, your personal ministries team, and your outreach events with these colorful, inexpensive, eye-catching tracts that can be spread out like the leaves of autumn.
Each topic introduces a central Bible topic and then links the reader to free Bible studies and a free resource that can be downloaded simply by sending a text message. Watch for more popular topics coming soon!
Text on tract:
Have you ever heard it said that the Bible is like God's "Owner's Manual" for humans? And it makes sense! After all, when you think about it, who would know what you need better than your Creator?
But what many people don't know is that God's Word contains astonishing information that will help you live a longer, healthier life. It's true, and it's even been verified by the latest medical research!
The Bible says, "Beloved, I pray that you may prosper in all things and be in health" (3 John 2). Isn't that what you want for your life too—starting as soon as possible? But where do you begin? The good news is that the Bible contains eight simple steps to optimal health, which you can start taking at any age. So keep reading and start on your road to wellness today!
Here are eight simple, scientifically proven, and Bible-based steps to vibrant living!
EAT HEALTHY FOOD: Did you know that God told people exactly what to eat for optimal health at the very beginning? He said, "I have given you every herb that yields seed which is on the face of all the earth, and every tree whose fruit yields seed; to you it shall be for food" (Genesis 1:29).
A diet of natural fruits, nuts, grains, and vegetables can prevent—and even reverse—today's "lifestyle" diseases, such as obesity, diabetes, heart disease, and more. Decades of scientific studies, including the famous "Blue Zones" study, prove that those who follow the Bible's vegetarian diet can live an extra six to seven healthy years! Why not give it a try?
DRINK WATER: "I give waters … to give drink to My people" (Isaiah 43:20). Did you know that nearly 60 percent of the human body is water? That's a good clue that H20 is essential for your health! Staying hydrated will improve circulation and rid your body of dangerous toxins.
While your needs may vary, generally, most people should drink at least nine 8-ounce glasses of water per day. Men typically need more water than women, and you'll need more if you're physically active. Make it your goal to stay hydrated. Your body will thank you!
GET SUNLIGHT: "The sky above proclaims God's handiwork" (Psalm 19:1 ESV). Did you know that 90 percent of Americans don't get enough vitamin D, which is essential for healthy cells and bones? One reason for this is because we don't get enough sunlight.
Try to get at least 30 minutes of direct sunlight three days a week; if you have a darker complexion, you probably need more. Be sure to talk with your doctor to determine how much exposure is enough—and how much is too much—for you.
BREATHE FRESH AIR: "Breath came into them, and they lived" (Ezekiel 37:10). Clean, quality air is vital to your body's overall health. Breathing fresh air will help your cells function better, and you'll feel invigorated too!
Whenever possible, breathe in deeply as much clean air outside as you can every day. The best air is found in natural settings—forests, waterfalls, and the ocean shore. Depending on pollution levels, cracking open a few windows in your home can also help.
EXERCISE: "She girds herself with strength" (Proverbs 31:17). God designed you to be physically active, and no matter your age or physical limitations, there is likely something you can do to increase your level of activity.
In fact, as little as 30 minutes of moderate exercise three times a week can help improve heart health, aid in weight loss, reduce stress, elevate mood, give you more energy, and more. Be sure to check with a physician before starting, and if you haven't exercised in a while, start slowly. The life you save could be your own!
MODERATE: "I discipline my body" (1 Corinthians 9:27). From food to sleep, God wants you to fully enjoy His creation, but going overboard is equally dangerous. Avoid overeating and sleeping, and always avoid dangerous substances.
A 2018 study across 195 countries came to this startling conclusion: There is "no safe level" of alcohol to drink. But avoiding alcohol is just one aspect of moderation. It also means avoiding harmful drugs, including tobacco. Your body is a gift from God. Choose wisely what you do with it—and be courageous, setting a good example for your loved ones.
GET REST: "The sleep of a laboring man is sweet" (Ecclesiastes 5:12). God designed sleep to restore and repair your body's functions. Are you getting enough? Good rest will help you achieve peak mental performance, leading to better decisions and even decreasing your risk for auto accidents!
Most people need at least seven to nine hours of sleep every night. And did you know that God designed you to take a day off from work one day every week to enjoy time with Him and your family? Discover the Sabbath day—it will bless you abundantly!
HAVE FAITH: "The Lord is my strength" (Psalm 28:7). God wants you to have a strong body, but He also wants you to be strong spiritually. Put your trust in Him and His Word. Research proves that those who practice faith are less anxious and are happier than those who don't!
Make it a habit to pray and read God's Word daily—and seek to obey Him in all things, including taking care of your body. After all, your body is the temple of the Lord (1 Corinthians 6:19).
Customer Reviews
Ben E.

United States
03/12/2023
Great to share at my work
This is great because it fits in my back pants pocket and I work at a Kaiser Hospital so every chance I get I am sharing this tract with my patients and whom ever the Holy Spirit leads me to share. I will purchase this again when I am running out.
Jenilee L.

United States
02/28/2023
Amazing indeed
Great info in a small little book'
Carolyn G.

United States
09/02/2022
I Love These
I include these in my health message literature kits that our community service team hands out on the sabbath.
Marsha N.

United States
07/01/2022
Health tracts
People love it when you give one to them !!
Carolyn G.

United States
05/25/2022
The Health Message
Great! I used these in our Covid-19 Survival kits, along with the 'God's Free Health Plan' study guide. It's a great way to share the health message. Our church hands out the kits during our free grocery giveaways.
Lucyana P.

United States
03/15/2022
Amazing Fact Bookstore
Easy ordering and fast delivery. I shared the item with my neighbors.
Joyce K.

United States
02/03/2022
Health review
These are handy to tuck into my purse to leave in public places where they will be found, or to give in conversation with someone. Very informative and attractive.