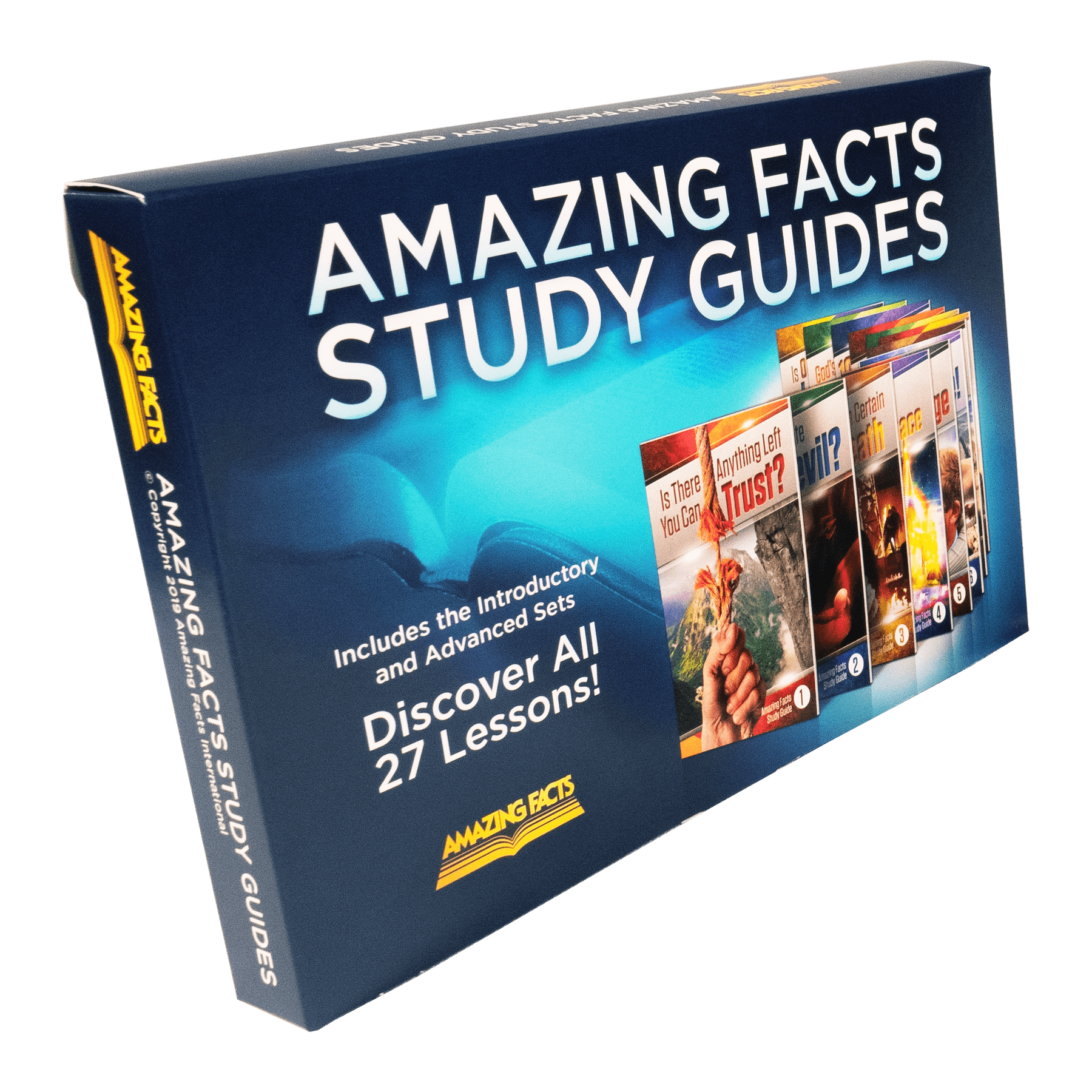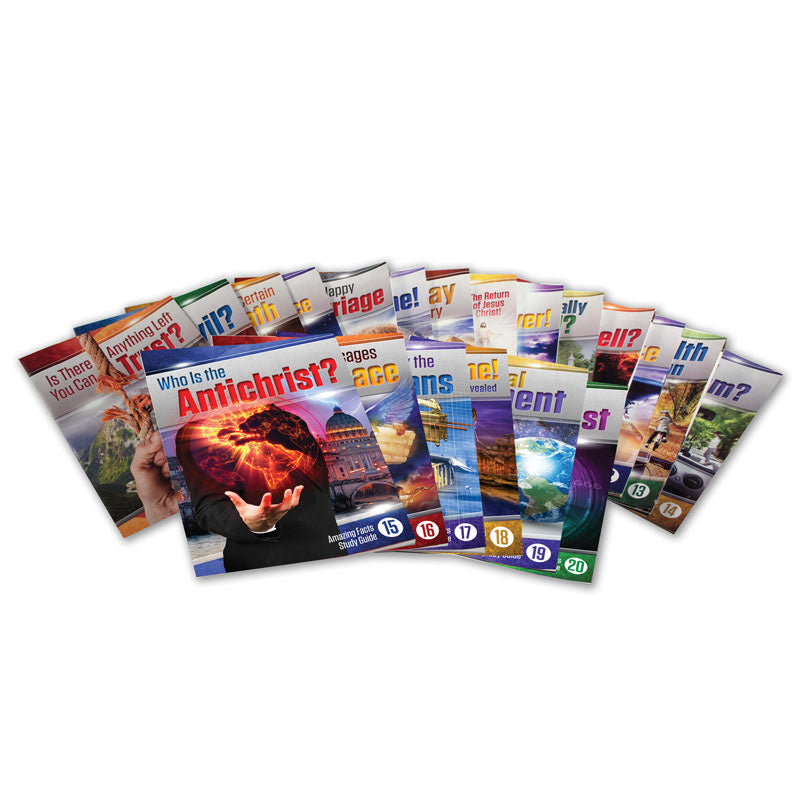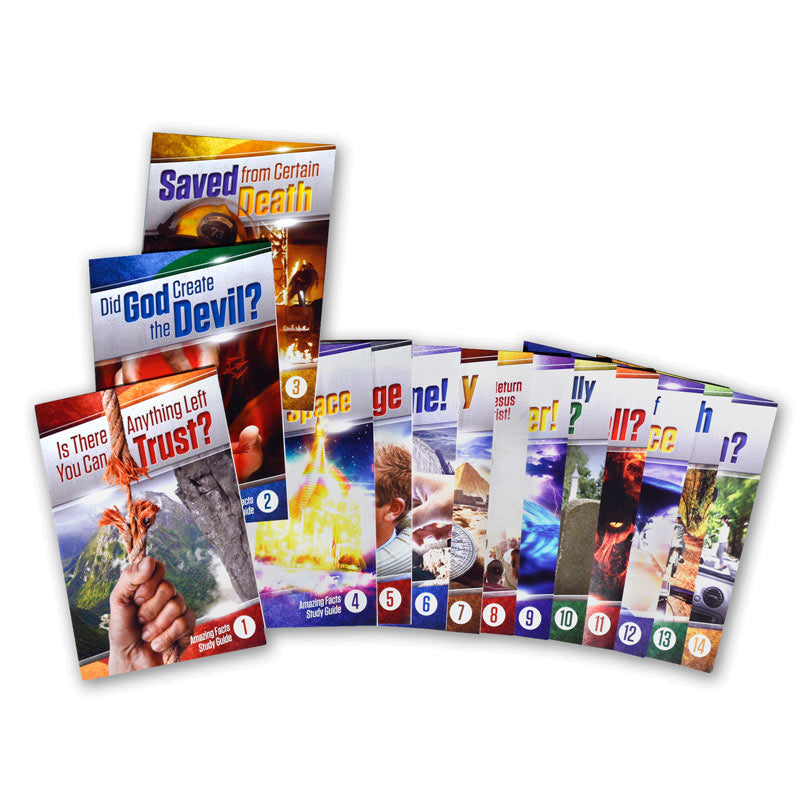 Amazing Facts Study Guides Complete Set (1-27) by Bill May
In stock
Pickup available at 1
Usually ready in 2 hours
Amazing Facts Study Guides Complete Set (1-27) by Bill May
1
Pickup available, usually ready in 2 hours
6615 Sierra College Boulevard
Granite Bay CA 95746
United States
+19164343880
Other options for this product:
Our bestselling Bible lessons have already helped tens of thousands around the world discover the many vital, inspiring truths of the Bible—and now it's your turn! You're going to love the colorful, eye-catching graphics, amazing facts, and the easy-to-understand, step-by-step learning that will help you better grasp the Bible's most vital teachings clearly and completely.
Excellent for personal study or with a group, these winsome, uplifting lessons will bring you and those you share them with faith, hope, and clarity.
Conveniently packaged in beautiful, full-color envelopes.
Introductory Lessons
Study Guide 1: Is There Anything Left You Can Trust?
Study Guide 2: Did God Create the Devil?
Study Guide 3: Saved from Certain Death
Study Guide 4: A Colossal City in Space
Study Guide 5: Keys for a Happy Marriage
Study Guide 6: Written in Stone!
Study Guide 7: The Lost Day of History
Study Guide 8: Ultimate Deliverance
Study Guide 9: Purity and Power!
Study Guide 10: Are the Dead Really Dead?
Study Guide 11: Is the Devil in Charge of Hell?
Study Guide 12: 1,000 Years of Peace
Study Guide 13: God's Free Health Plan
Study Guide 14: Is Obedience Legalism?
Advanced Lessons
Study Guide 15: Who Is the Antichrist?
Study Guide 16: Angel Messages from Space
Study Guide 17: God Drew the Plans
Study Guide 18: Right on Time!
Study Guide 19: The Final Judgment
Study Guide 20: The Mark of the Beast
Study Guide 21: The United States in Bible Prophecy
Study Guide 22: The "Other" Woman
Study Guide 23: The Bride of Christ
Study Guide 24: Does God Inspire Astrologists and Psychics?
Study Guide 25: In God We Trust?
Study Guide 26: A Love that Transforms
Study Guide 27: No Turning Back
Customer Reviews
Martin M.

United States
12/02/2023
Great information
Very easy to read and fact filled, thanks for lifting me up
Dan P.

United States
10/02/2023
Great for adults and teens alike
I use these guides to teach 30 teenagers every weekend. They are comprehensive and easy to follow. It's a wonderful supplement to my regular lessons for this age group of 13-18 year olds. Highly recommended!
Annie R.

United States
10/02/2023
Amazing Facts Study Guides
Great! So easy to comprehend! Will order more to share with others.
Elaine P.

United States
10/01/2023
Amazing Facts Study Guides
I am currently using them in a study group. We are enjoying them. Love how the questions are clearly answer by the scriptures
KATHRYN S.

United States
10/01/2023
Very informative
Great! It is very good at explaining the most confusing topics. The scripture references are on point!
Blaine D.

United States
09/03/2023
Amazing Facts Study Guides
Loved them, I've been following Amazing Facts and Pastor Doug for several years and although I'm not Seventh Day Adventist, I love his message and his teachings
Cathy m.

United States
09/02/2023
Study guide
My husband and I both have enjoyed reading the study guides. Just enough information to help us totally understand the book.